Often described as the "Jewel of the Nature Coast," Crystal River offers small-town charm, a deep and fascinating history, and a wealth of ecological attractions. Crystal River delights visitors year-round with its unique collection of things to see and experience, as well as delicious dining options!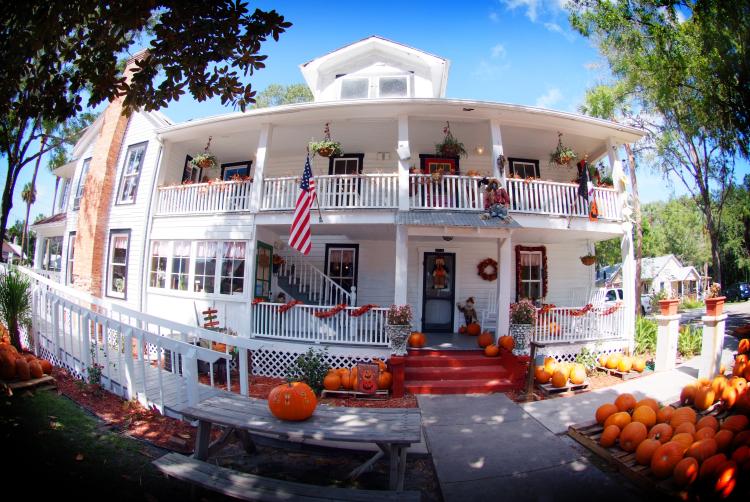 DAY 1
Soak up the local flavor by exploring Crystal River's downtown, which features the charming
Heritage Village
collection of shops and restaurants. Head to Citrus Avenue just off of Highway 19 to begin the fun.
Get your adventure to a leisurely start by browsing the shops and savoring the charm of this guest-friendly town. Whether you are looking for a plush manatee or timeless antique to remember your visit by, the Shoppes of Heritage Village have something for everyone. Don't miss
Southern Babe Boutique
,
The Cotton Club
and
All About Nature
.
Creative and affordable lunch offers can be found nearby. Several eateries can be found downtown including
Amy on the Avenue
,
Cattle Dog Coffee Roasters
,
BubbaQue's BBQ
, and
Tea House 650
— all within walking distance. A frosty cold adult beverage can be found at
St. John's Tavern
,
KC Wine and Koffee Bar
, or
Copp Winery & Brewery
on the Bayside of the downtown area.
In the afternoon, enjoy the full span of the area's centuries of history by
Coastal Heritage Museum
and
Crystal River Archaeological State Park
. The Coastal Heritage Museum chronicles the beginnings of western Citrus County, and its historic building was built in 1939 by WPA labor. The Archaeological State Park dates back significantly further, when the series of shell middens at the park were an important ceremonial center for the thousands of ancient Native Americans.
A museum showcasing a variety of artifacts can also be toured at the park. After a busy day of shopping and history, you will be in the mood for the local tastes available from Crystal River restaurants. Enjoy fresh-caught local fish and fresh produce (often locally grown) in a variety of familiar dishes and new favorites. The area has more than enough one-of-a-kind restaurants for your entire stay, from the fine eclectic flavors of
Vintage on 5th
, to a little surf and turf at
Kane's Cattle Co
., or fresh "Fish of the Day" and live music at
Waterfront Social
.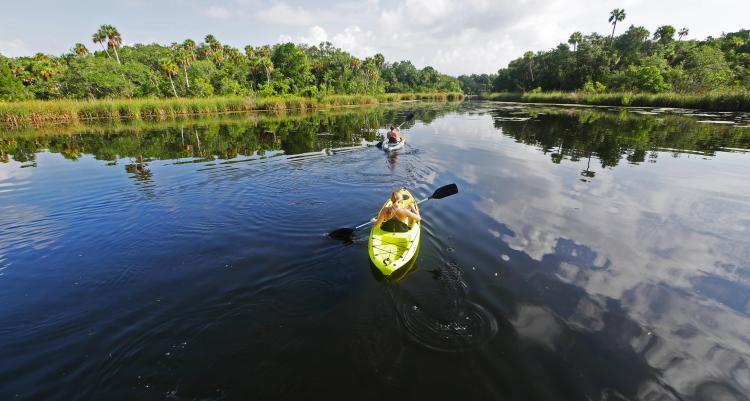 DAY 2
Having enjoyed Crystal River on land, today is the perfect time to head out and discover why our community is a water lover's dream.
Boat tours by knowledgeable guides will show you the natural aquatic wonders of the Crystal River and its estuary. Learn about—and see up close—a vast array of flora and fauna from the unique ecosystems of the Nature Coast and take in the beautiful scenery. These tours operate daily and can be focused on leisure, eco-site seeing, or fishing.
If you would prefer to do the exploring yourself, you can also rent a boat and traverse the area's picturesque waterways at your own pace. Pack a picnic lunch and meander until you find a nice, shaded place to stop and eat. Renting a boat makes it easy to dive into the area's many
springs
, which have consistent 73° (23° C) temperatures all year long for your swimming pleasure.
Speaking of rentals,
kayak and paddle board rentals
are as plentiful as they are affordable in and around Crystal River. Visitors from all over come to Crystal River specifically for a paddling trip. One of the most glorious spots is Three Sisters Springs, a natural inlet which is home to many manatees.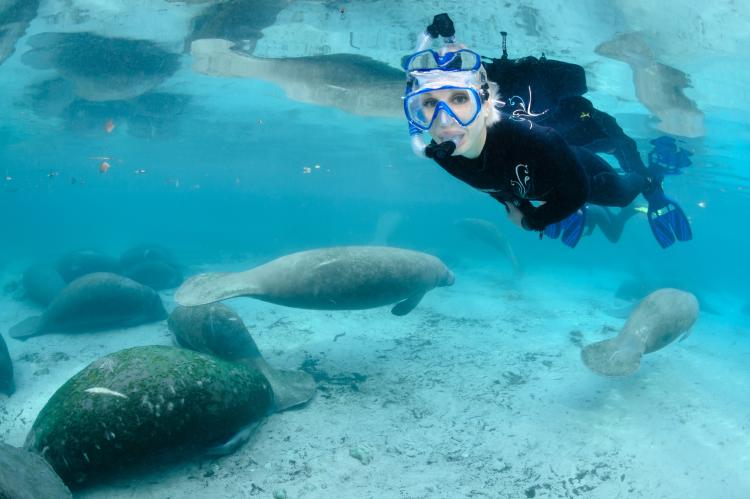 DAY 3
Finish your three-day stay on an exceptionally high note with one of Crystal River's most renowned activities: swimming with manatees or scalloping.

Manatee tours operate all year round, although the very best time to meet a manatee is in the cooler months. As the water temperature in the ocean drops, hundreds of manatees make their way into the comparatively warm springs and spring-fed rivers of Citrus County, creating North America's largest manatee gathering every year. These guided trips often depart early in the morning, carrying you to the ideal grounds for sea-cow encounters in the crisp morning air. Tour operators typically supply a snorkel and wetsuit; just don't forget a swimsuit—and your sense of wonder.

Another seasonal sensation is scalloping. Yielding a great deal of fun with little cost or equipment needed, scalloping is a wildly popular family activity from July 1st – September 24th each year. Grab a snorkel and mesh bag to harvest scallops in four to six feet of water a short way offshore in the Gulf of Mexico. As with manatee swims, many guide services are available.

As your third day of adventure draws to a close and you set to return home, you'll discover that there still remains much to experience in Crystal River and throughout Citrus County. Fortunately, The Water Lover's Florida is always ready to welcome you back for another affordable family vacation!
FREE PLANNING ASSISTANCE
For more information on any of these fantastic activities, contact the Citrus County Visitors & Convention Bureau at 1-800-587-6667 for free assistance. And be sure to stop by and say hello at the Visitors Center on US 19 in Crystal River. We look forward to helping you discover all that The Water Lover's Florida has to offer! If this itinerary sounds like the perfect vacation plan for you, be sure to download our free printable PDF.