Citrus County Itinerary
For a vacation overflowing with value and variety, paddle on over to Citrus County, The Water Lover's Florida.
Use our sample itinerary to plan a getaway you won't soon forget!
FUN IN THE WATER LOVER'S FLORIDA
Found just north of Tampa Bay and northwest of Orlando, our communities of Crystal River, Homosassa, Inverness and Floral City are easy to reach from anywhere. Here your family can experience endless aquatic adventure, small-town charm and family fun beyond the bustle of theme parks on the Nature Coast.
PLAN AHEAD
Before you dive into the fun, settle into an accommodation ideal for your plans and family. Citrus County has accommodations to suit every taste—and budget. Enjoy quaint cottages or cabins to get away from it all, stay in one of many affordable hotels and motels or check into a full-service resort. And our house and condo rentals offer plenty of room for large families or extended stays.
DAY ONE
After breakfast, head on over to The Homosassa Springs Wildlife State Park. Experience this remarkable showcase for native Florida wildlife. The park offers visitors a rare opportunity to observe these animals, birds and plants in their natural settings. Also, there is an underwater observatory directly over the head spring of the Homosassa River where you can observe hundreds of fish and manatees up close. Fascinating educational programs are offered daily on West Indian manatees, Florida snakes and alligators. The Children's Education Center will entertain the little ones while Mom and Dad take a rest after the 1.2-mile walk through this incredible, beautiful park. Admission: Adults, $13; Children 6-12, $5; Children under 6, free.
Lunch after the park is easy. Just down the road from the west entrance on Yulee Drive is the Museum Café, which specializes in Cuban sandwiches or for a waterside experience go to the world famous Riverside Crabhouse and watch the monkeys swing around on monkey island.
After lunch, drive out to Fort Island Gulf Beach and enjoy the afternoon and an unforgettable Florida sunset. The park has restrooms, picnic tables, a fishing pier and warm Gulf of Mexico water.
DAY TWO
For a unique indoor diversion after yesterday's outdoor thrills, and for fascinating displays on the history of Citrus County and beyond, visit the Old Courthouse Heritage Museum. Many displays are geared toward and even created by kids. Admission is free, but they accept donations for the Citrus County Historical Society. Elvis spent time at the historic courthouse to film his movie Follow That Dream.
After the museum, make your way around the corner to Plaster Paradise (214 Tompkins Street, Inverness, 352.344.2893) where the kids (and the grownups) can choose a ceramic item to paint any way they'd like. You can do a great creation for about $6.00. While your creations are drying, walk on over to the town square for a great lunch. Stumpknockers offers seafood, sandwiches and the best fried catfish you've ever had. Then on your way back to Plaster Paradise, stop and see the doctor. Yup, tell your kids it's time for their checkup with The Ice Cream Doctor. This shop is just what the doctor ordered for a wonderful frozen treat. (Find out more about historic Inverness here.)
DAY THREE
Meet your captain riverside for a half-day or full-day fishing charter. All you need to bring is sunglasses, a hat, sunscreen and lunch. Everything else is provided, including the expertise and licenses. Homosassa and Crystal River are known worldwide for the fishing adventures they provide. Use our helpful guide list to find a guide. Prices for a half-day are about $250, and full-day charters cost about $400 for up to four anglers. Be sure to make your reservations early!
Spend the afternoon relaxing by the pool exchanging fishing stories.
DAY FOUR
Renting a pontoon boat is the perfect way to explore the natural side of Florida. The boats are simple to drive, usually hold up to 12 people and are easy on the wallet. At the mouth of the river, you can swim in the warm Gulf of Mexico saltwater. Then, at the head of the river, cool off in the 72-degree water of a crystal-clear spring. And lunch during this excursion is a breeze. You can pull right up to one of our many wonderful waterfront restaurants for a great lunch, or pack your own. A full-day's rental is usually around $150 which is less than admission to most theme parks. Most of the boat tour companies, marinas and resorts have rentals available.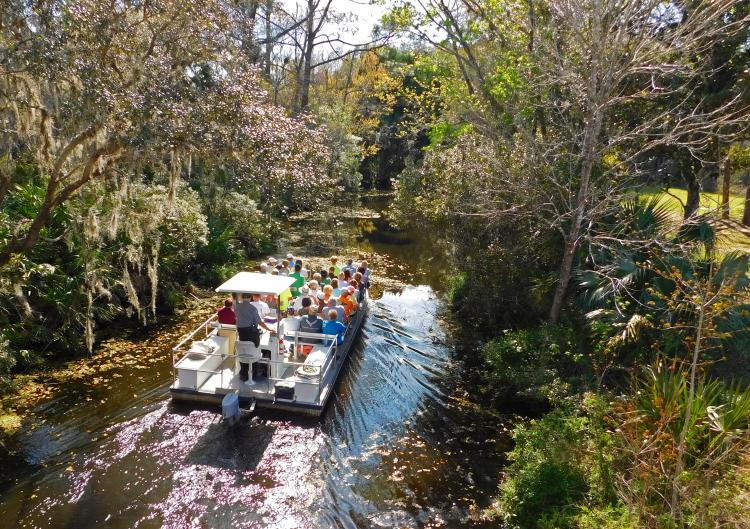 DAY FIVE
You've explored by motorized vessel. Now let's see nature from a different angle: Take a kayaking tour of the Withlacoochee or Chassahowitzka River with a guide and learn about the history of the river and its flora and fauna—all while exploring what feels like uncharted land as you travel the way the region's first Native American settlers did centuries ago. A half-day tour with an experienced guide will run between $35 and $55 per person and includes a kayak rental.
After your kayaking expedition, visit Cracker's or Caribbean Cravings in Crystal River on Kings Bay. Outdoor seating at both places and hugely diverse menus are sure to satisfy even the biggest post-paddle hunger. Plus they are in the walking-friendly district complete with shops, pubs and a waterfront walk.
After lunch, take a break that costs absolutely nothing! Visit one of Citrus County's Parks or hike one of the Great Florida Birding Trails sites. Either way, you'll be communing with the beauty of the area while expending boundless kid energy.
DAY SIX
We've saved the best for last. Today, we're going to do something you can't do anywhere else in the country—snorkel with endangered West Indian manatees. Hire a guide service to enjoy a half-day in the water with these sweet-tempered sea cows. The cost is minimal (between $40 and $60) and includes all the gear you'll need (wet suit, mask, snorkel). A manatee encounter in Citrus County is a fun and unforgettable way to meet these gentle giants up close.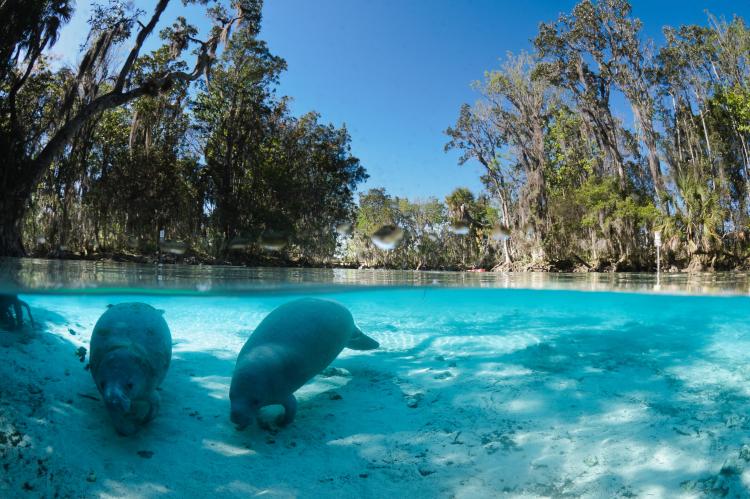 FREE PLANNING ASSISTANCE
For more information on any of these fantastic activities, contact the Citrus County Visitors & Convention Bureau at 1-800-587-6667 for free assistance. And be sure to stop by and say hello at the Visitors Center at the Homosassa Springs Wildlife State Park. We look forward to helping you discover all that The Water Lover's Florida has to offer!