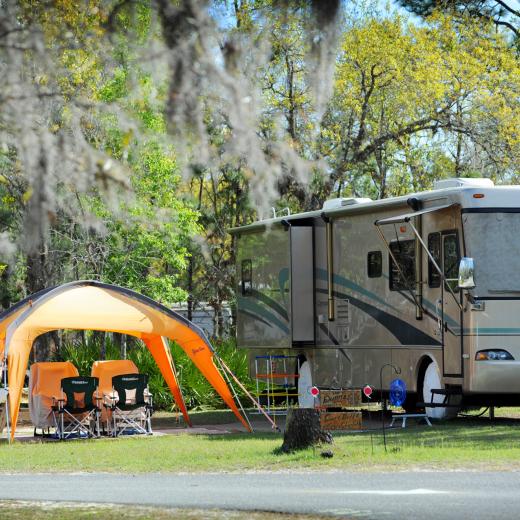 A Guide to Tent & RV Camping in Crystal River, FL
Find out about the top places for tent camping and RV campgrounds near Crystal River, Florida and travel tips for a pleasant camping experience.
Are you looking to maximize your time outdoors on your visit to Citrus County, Florida? Take your family RV Camping or Tent camping on your Florida trip and experience hiking, boating, fishing, in a beautiful natural setting. Here are some of the top places to go camping on your next visit to Crystal River:
Where to Go RV Camping Near Crystal River, Florida
RV Campgrounds are a great option for traveling with children and pets. Here are a few amenity-rich RV parks and campgrounds throughout Citrus County to consider for your trip:

Crystal Isles RV Resort: Close to the Gulf beaches, this RV Resort offers plenty of amenities, including a pool, waterfront sites, on-site laundry, and boat rentals.
Rousseau RV Resort: On beautiful Lake Rousseau, the sites at this RV Resort are shaded by ancient live oaks. Guests will enjoy the waterfront views, swimming pool, and access to both salt and freshwater for plenty of fishing.
Nature's Resort: Situated on the Homosassa River, this 97-acre resort offers RV sites and also cabin rentals. There's a swimming pool, game room, and access to the Gulf for fishing and boating.
Riverside Lodge RV Resort: Right on the Withlacoochee River, this RV Resort offers RV sites, tent camping sites, and cabin and cottage rentals. Guests who rent a cabin can enjoy free canoe and kayak rentals to get out on the water. There's also a pool for your family to enjoy.
Chassahowitzka River Campground: This riverside campground offers 53 full hookup RV sites and 28 primitive tent camping sites along with a boat launch, boat rentals, and general store. Camp here if you are looking for scenic views, wildlife, and some of the best paddling in Florida.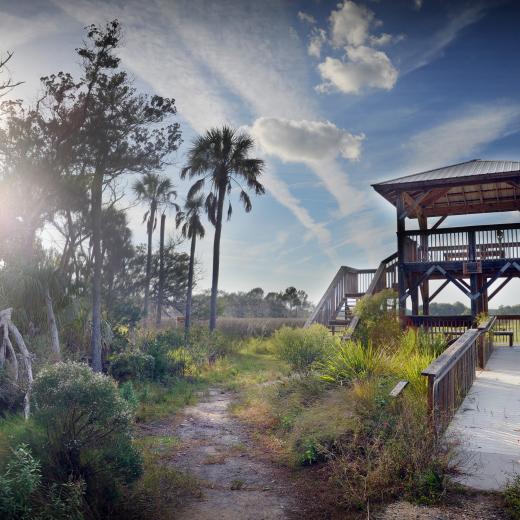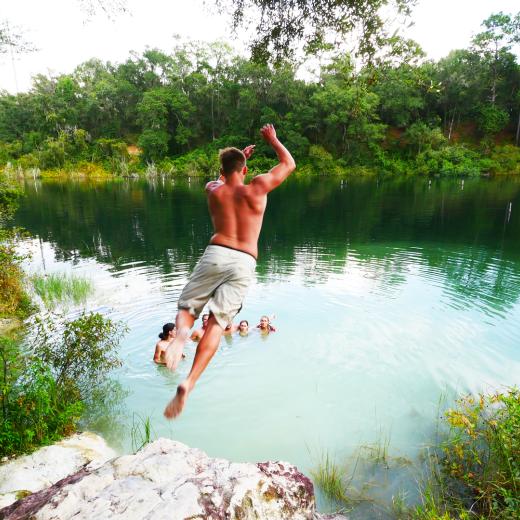 Where to Go Tent Camping Near Crystal River, Florida
For a more rugged, off-the-grid experience, Crystal River offers two gorgeous nature preserves, and a beautiful state forest. You can pitch your tent adjacent to waterways, wildlife, birding, and mixed-use trails for an amazing outdoor getaway.
Flying Eagle Preserve: Located in the Tsala Apoka Chain of Lakes system, this preserve offers a mix of small lakes, marshes, and swamps. Explore 16 miles of mixed-use trails throughout the preserve, for amazing views and wildlife and bird watching opportunities. The tent campsites all offer picnic tables and fire rings or grills, and you can view a map of the area here.
Pott's Preserve: This preserve is dedicated to protecting the area's groundwater supply and important wetland habitats. Campers can enjoy 9 miles of mixed-use trails, a 4-mile riverside trail, and 22 miles of open hiking space with ample wildlife and birding opportunities. Look out for the rare, threatened Florida scrub-jay, which resides in this area. Here's a map of Pott's Preserve are to help you plan.
Withlacoochee State Forest: Go tent camping at one of 9 campgrounds and enjoy several trail systems winding through thousands of acres of protected land and waterways. Explore the 8.6 -mile loop, 17.3-mile loop, or canoeing trail. There are even trails dedicated to OHM and ATVs. Please visit the State Forest website for more details about the park and camping facilities.

What to Pack & Safety Tips for Camping in Florida
Plan for your camping trip with these quick packing and safety tips for Florida:

Pack Extra Layers and Warm Clothes: From December through May, it can reach the 80s during the day, then dip into the 30s during the night, so be prepared by packing a range of clothing and layers.
Sunscreen: There's a good reason they call it the sunshine state! Pack plenty of sunscreen, especially if you plan to enjoy water activities. The sun reflecting off of our rivers and lakes will increase the intensity of your sun exposure.

Be Prepared for Rain: During the wet season from May through October, rain is common in the afternoons. Make sure you plan alternate activities for your group in case of rain. The wet weather can so bug spray and citronella candles and products are recommended.
Be Aware of Bears: Bears do live in the habitats surrounding Citrus County, Florida. While bear sightings are infrequent, you may wish to pack bear spray as a safety precaution if you plan on exploring in wilderness areas.
Alligator Safety: If you do see an alligator, practice common sense. Keep your distance and do not feed the alligator or disturb it in any way. If you see an alligator nest or baby alligators, stay back and do not disturb the nest, as mothers are very protective of their young.

For additional safety guidelines, visit these helpful resources: