Withlacoochee State Trail Offers Bicyclists Unique Journey through 46 Miles of Old Florida Charm
Florida's Nature Coast has no shortage of adventures for outdoor enthusiasts, many of them best experienced along a rambling network of well-maintained trails such as the Withlacoochee State Trail.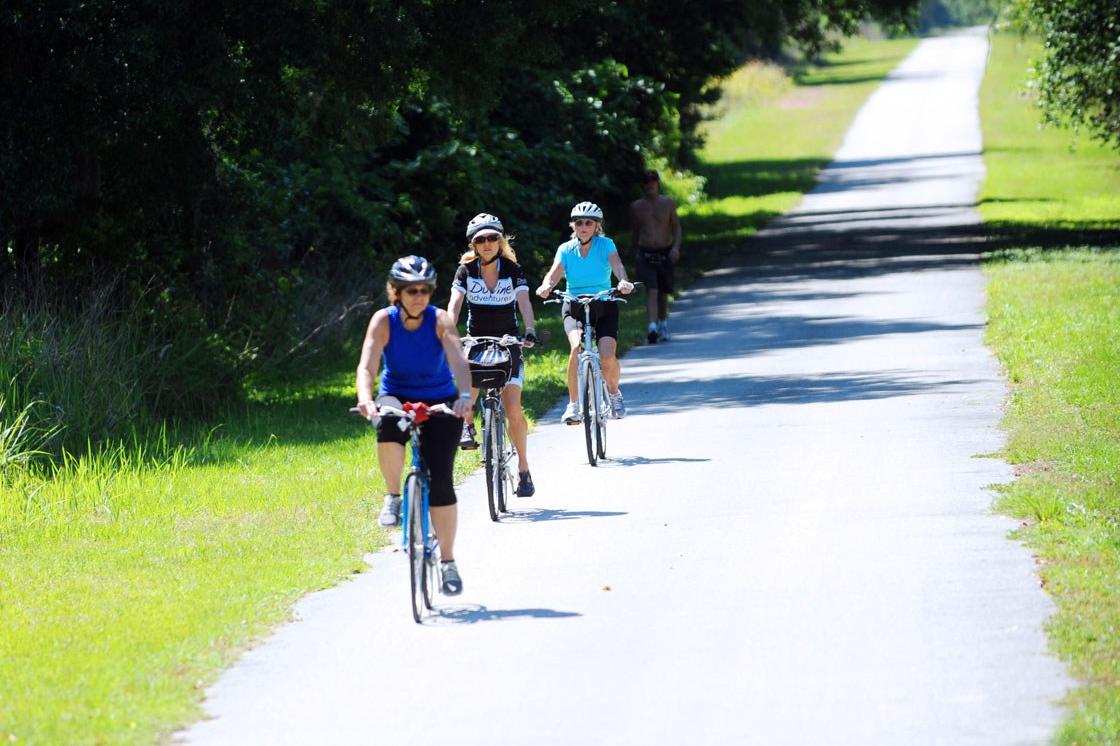 One of the longest paved trails in Florida, the Withlacoochee State Trial converted more than 46 miles of old CSX rail line and is recognized as one of the best rails-to-trails conversions in the United States. A flat terrain and many entrance and exit points make it the perfect option for cyclists of all ages, skill and fitness levels. The expanse of the trail corridors covers Citrus, Hernando and Pasco Counties, giving cyclists an opportunity to discover quaint small towns, working ranches and six distinct natural environments. Highlights along the trail include the Withlacoochee State Forest, the Withlacoochee River (South) Canoe Trail and Fort Cooper State Park.

"The trail provides a really remarkable journey across more than 761 acres of Florida," said Christopher Raby, Park Manager with the Florida Park Service "And we've made it as user friendly as possible, with modern restrooms, water fountains, convenient parking and multiple access points so riders can hop off and explore local restaurants, shops and historic sites, or spend the night at hotels and campgrounds."

In addition to cyclists, the trail attracts runners, walkers, skaters and even equestrian riders on portions of unpaved trails running parallel to the main trail. The site was designated part of the Florida Greenways and Trail System and as a National Recreation Trail, with rich opportunities to view native plants and wildlife. Find out more information about the Withlacoochee State Trail and plan your visit today at DiscoverCrystalRiver.com

About Crystal River, Florida

Widely known as the Manatee Capital of the World, Crystal River, Florida, is the only place in the United States to legally experience the up-close encounter of swimming with these gentle giants. Located in Central Florida's Gulf Coast, Crystal River and the surrounding cities of Old Homosassa, Inverness and Floral City are an authentic showcase of outdoor adventure and scenic beauty. Within tens of thousands of acres of protected state parks, forests and wildlife refuges, visitors can explore miles of bicycling, walking, birding, horseback riding and hiking trails to unlock a wild and wonderful world of natural, recreational and archaeological treasures. Pristine swimmable springs and a shimmering network of rivers, lakes, marshlands and mangroves make Crystal River perfect for kayaking, paddle boarding, canoeing, boating, fishing and floating. Feeding the fun is a creative collection of restaurants, pubs, bistros and bars serving up freshly caught seafood and other seasonal favorites all year long – from summer scallop season, to fall blue crab season, to manatee season and a year-round fishing season. Begin your adventure at DiscoverCrystalRiverFL.com or call (800) 587-6667.