Paddling Florida's Nature Coast in Crystal River
Countless families, friends and outdoor adventurers have paddled their way to unforgettable vacations while drifting and dreaming through the scenic waters of Crystal River and Florida's Nature Coast.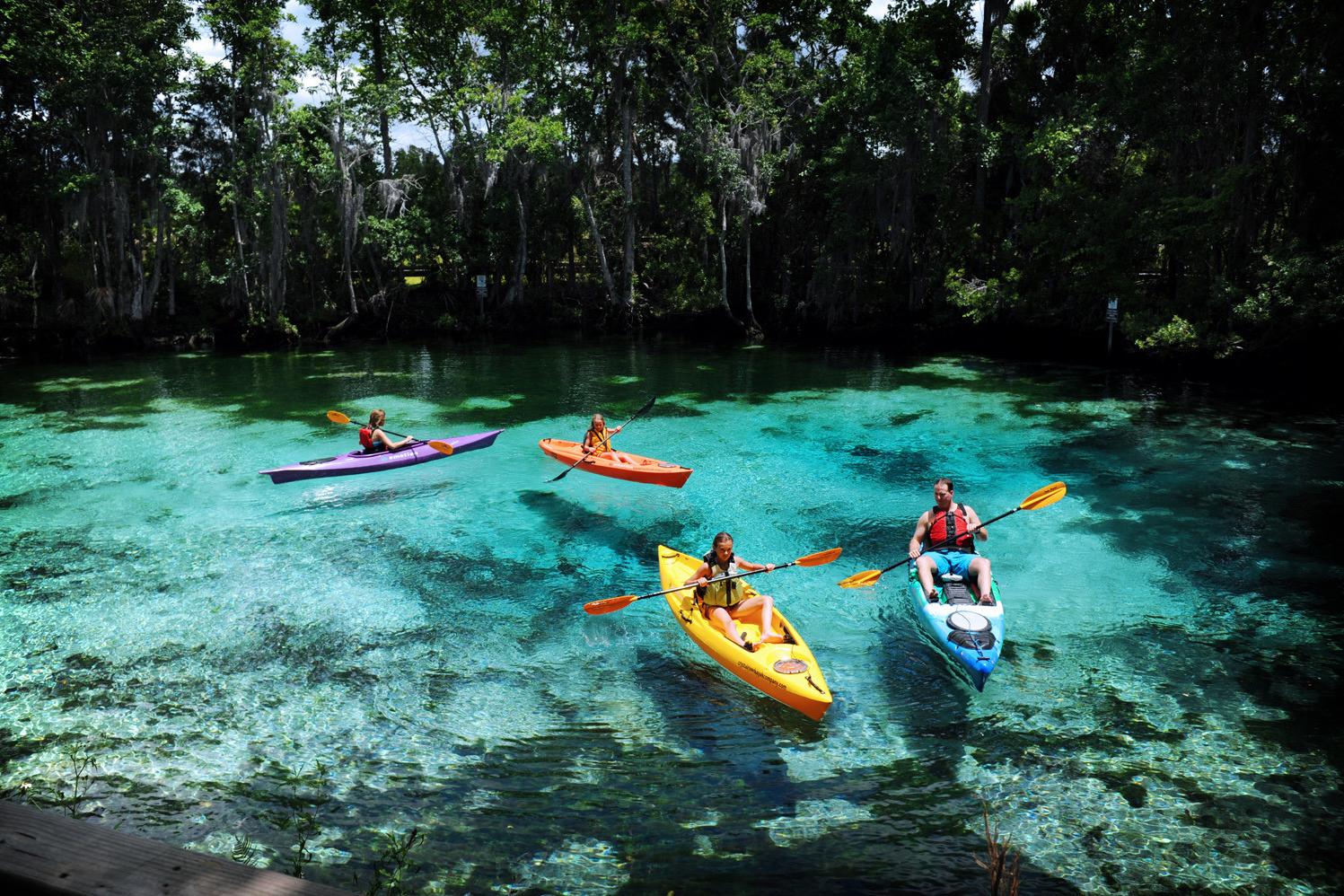 The area's liquid assets include seven rivers, sparkling springs, freshwater lakes and the Gulf of Mexico. From the mangrove islands of the Saint Martins Marsh Aquatic Preserve to the open waters of Tsala Apopka, this scenic stretch of Nature Coast offers easy access to kayak, paddleboard and canoe rentals, and everything else needed to explore this paddler's paradise.

Florida's Backcountry

An amazingly rich area to reconnect with nature, the Saint Martins Marsh Aquatic Preserve is full of marshes, mud flats, oyster bars, mangrove islands and seagrass beds. At over 28,000 acres, the preserve spans Homosassa and Crystal River and protects some of the most extensive seagrass beds in the world. Local outfitters offer kayak rentals and tours through this unique eco-system. The Nature Coast Ecotours guides paddlers through this unspoiled beauty on a 3-hour tour, often encountering native wildlife such as sea turtles, dolphins, manatees and even bald eagles during migration season.

Mind Your Manatee Manners

Crystal River's most esteemed residents, manatees love to see the thousands of visitors that come to play, provided paddlers respect their home. The U.S. Fish and Wildlife Service recommends taking a passive observation approach to paddling alongside the manatees. Visitors can calmly observe manatees from a distance, especially if the manatees appear to be resting. Manatees are known to rest in larger groups in designated sanctuary areas, which are marked by lines and buoys to keep overly-curious paddlers or swimmers at a safe distance. Polarized glasses make it easier to spot submerged manatees and gentle surface paddling reduces splashing, loud noises and disturbances that might keep manatees away. Learn more tips in this helpful video.

As Crystal Clear as Crystal Springs

Love to see below the surface but would rather stay dry? Try renting a clear kayak from area paddling outfitters to get a clear look into the watery wonderland below. Hunter Springs Kayaks rents new all-clear kayaks which are perfect for their Eco-Tour, a 3-hour paddling adventure with knowledgeable guides teaching paddlers everything from history to wildlife.


Whether it's by kayak, canoe or paddleboard, Discover Crystal River is the perfect destination for paddlers to experience the Florida weather, sparkling waters and scenic natural beauty. Find out more information about paddling rentals, tours and experiences and plan your visit today at DiscoverCrystalRiver.com.

About Crystal River, Florida

Widely known as the Manatee Capital of the World, Crystal River, Florida, is the only place in the United States to legally experience the up-close encounter of swimming with these gentle giants. Located on Central Florida's Gulf Coast, Crystal River and the surrounding cities of Old Homosassa, Inverness and Floral City are an authentic showcase of outdoor adventure and scenic beauty. Within tens of thousands of acres of protected state parks, forests and wildlife refuges, visitors can explore miles of bicycling, walking, birding, horseback riding and hiking trails to unlock a wild and wonderful world of natural, recreational and archaeological treasures. Pristine swimmable springs and a shimmering network of rivers, lakes, marshlands and mangroves make Crystal River perfect for kayaking, paddle boarding, canoeing, boating, fishing, scalloping and floating. Feeding the fun is a creative collection of restaurants, pubs, bistros and bars serving up freshly caught seafood and other seasonal favorites all year long. Begin your adventure at DiscoverCrystalRiverFL.com or call (800) 587-6667.