Where to Fish in Crystal River and Homosassa, Florida
Plan a fishing trip this spring or summer with a local fishing charter
Deep sea fishing? Check. Saltwater inshore fishing? Check. Freshwater fishing? Check. In fact, Crystal River and Homosassa check all the boxes for a "reely" great day on the water. Put simply, the number and variety of places to fish, and number of species to fish for, almost guarantee a rewarding fishing trip, no matter how experienced you are or where you throw a line.
Where to Start:

Just 75 minutes north of Tampa, Crystal River and the surrounding cities of Homosassa and Inverness are defined by water like few other places in the world, with a twisting network of spring-fed rivers flowing out to the Gulf of Mexico, or inshore to pristine lakes.

Considered the "Gem of the Nature Coast," Crystal River is named after the crystal-clear river flowing through the town. It sits on a first magnitude Florida springs system, King's Bay, just a few miles from the gulf coast. King's Bay Park and Fort Island Gulf Beach Park both provide easy access to boat ramps and kayak launches, and also have piers for those who prefer to do their fishing from dry land.
An original fishing village, the town of Homosassa is just south of Crystal River, nestled on the Homosassa River, another spring-fed waterway leading to the gulf. Known throughout the angling community for its outstanding sport fishing and access to the "Chaz" (Chassahowitzka River), this enchanting coastal town is about as Old Florida as it gets. Boat rentals, fishing charters and friendly, knowledgeable guides are abundant, but be sure to book a ahead of your visit.
Inverness is further inland from the gulf, just east of its other Citrus County counterparts. The town is known for the nearby 19,000-acre Tsala Apopka Chain of Lakes, with an abundance of freshwater species that keep anglers from around the world coming back for more.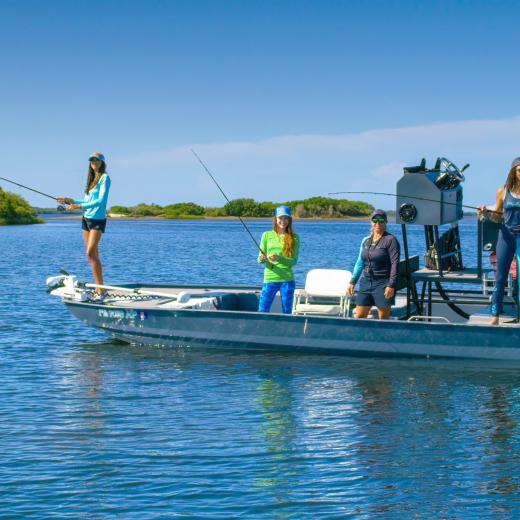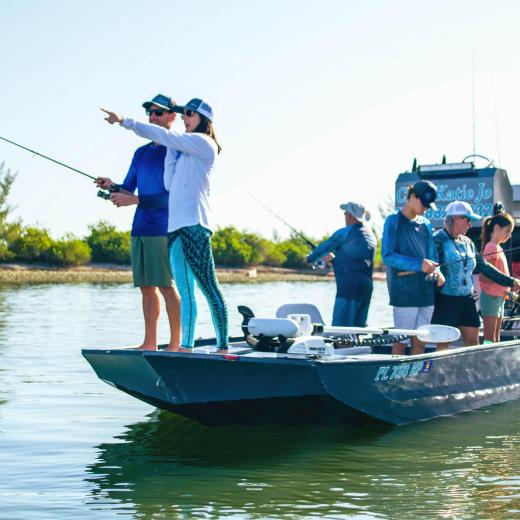 Offshore, Inshore, Rivers and Lakes:
Whether you prefer to fish freshwater, saltwater, offshore, in the flats, from the bank or the from boat, you're sure to reel in a great story – and hopefully an epic catch in Crystal River. Some of the most productive inshore fishing hot spots include St. Martins Marsh and Big Bend Aquatic Seagrass Preserves, where you can cast for trophy redfish, snook, and gag grouper, or even a record cobia or tarpon on a fly. On the Chassahowitzka, Halls, Crystal or Homosassa Rivers, visitors rave about the gin-clear freshwater springs, wild landscapes, and boatloads of freshwater and saltwater fish. Inland, Lake Rousseau and the 30-mile-long Tsala Apopka Chain of Lakes along the margin of the Withlacoochee River are home to large-mouth bass, white bass, crappie, stripers, catfish, bowfin and gar, making it one of Florida's top freshwater fishing sites.
What's in Season for Spring and Summer

The fishing is phenomenal year-round, but springtime and summertime are teeming with certain species. The first of two snook seasons started March 1 and lasts till April 30, then opens again Sept. 1 through Nov. 30. Tarpon season runs April through May, bringing tons of these fun, hard-fightin' fish to area waters, with bull redfish season opening Aug. 1 until Oct. 15, being the late summer special for avid anglers.

Let the Local Fishing Guides Lead the Way

No matter when or where you drop a line, the best fishing can be had with the help of one of the area's accomplished local guides, some of whom trace their lineage back generations. Whether visiting with your own gear or looking for a fully equipped adventure, you can rely on these friendly, knowledgeable, professional charter captains to deliver an unforgettable experience. And who knows, maybe you'll learn a new "secret spot" each time you visit. Click here to browse a list of local guides.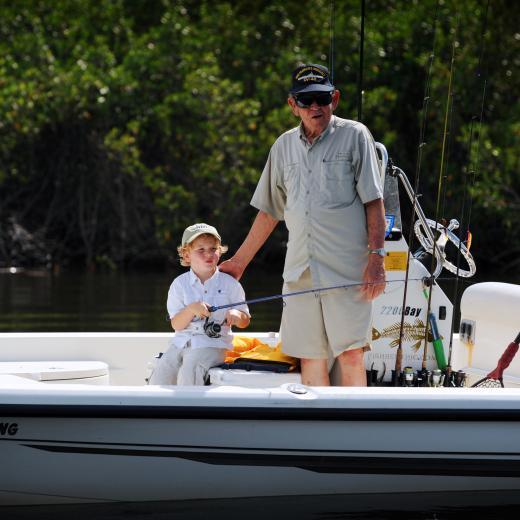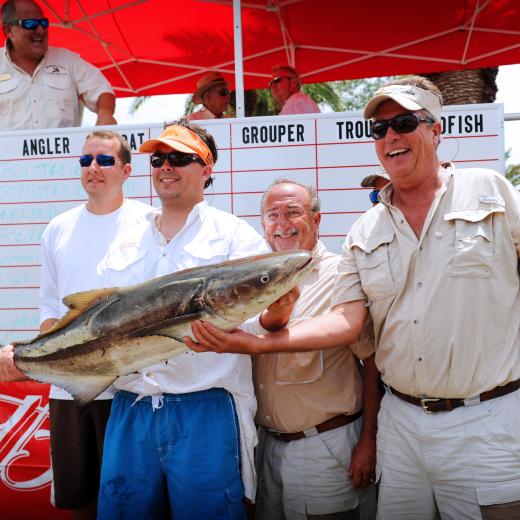 Fishing Tournaments to Plan For

If you're looking to land a trophy trout or giant grouper, know that sportfishing is at its finest in Homosassa and Crystal River, which host a variety of seasonal tournaments every year. At the Plantation on Crystal River, the Annual Redfish Classic Tournament in October is a family-friendly favorite. The tournament includes an element of conservation and education to show participants how to fish area waters in an environmentally responsible way. Another popular annual fishing event is the two-day CCBA Family Fishing Tournament, which is hosted at the Homosassa Riverside Resort in April.

Cast from Afar

To say that Crystal River is one of the most sought-after fishing destinations isn't just our opinion. Take it from some of top fishing shows and experts who have filmed countless episodes in Crystal River and Homosassa. Here are a few recent examples:

"Cook Your Catch" Specials

In Crystal River, Homosassa and Inverness, a day of fishing doesn't have to end at the water's edge. There are many local restaurants with "cook your catch" options and mouth-watering waterfront views. Simply call ahead to one of our participating restaurants before bringing in your cleaned catch, and they will do the rest, transforming your trophy into a memorable meal, complete with plenty of southern-style, home-cooked fixins'.

Ready to Plan Your Fishing Expedition?
Start planning your fishing trip to Crystal River, Homosassa or Inverness today! Learn more about the area, what's in season, and local fishing charters and guides on DiscoverCrystalRiverFL.com.

Please remember to visit responsibility and respect boating speeds while navigating the waterways. There is nothing more important to our community than keeping our beautiful natural resources clean and intact. To learn more about how to be good stewards of our natural resources, boating regulations, and manatee safety, please visit the "Visit Responsibly" page of our website.