The Ultimate Friends Getaway in Inverness, Florida
If you're looking for a fun and relaxing destination for a girls' getaway, Inverness, Florida is a great choice!
If you're looking for a fun and relaxing destination for a girls' getaway, Inverness, Florida is a great choice! This small town offers a variety of activities and attractions that are perfect for a group of friends, and a great place to get away from the hustle and bustle.
During the day, there are plenty of activities to enjoy in and around Inverness. Take a walk or bike ride on the Withlacoochee State Trail, which offers scenic views of the surrounding countryside. Or, spend a day on the water on an airboat or catching bass in one of the many lakes.

In the evening, explore Inverness's downtown area, which is filled with shops, restaurants, and bars. Enjoy a craft beer at a local brewery, or indulge in some ice cream or sweets at one of the town's many dessert spots. There are also plenty of dining options, from casual seafood restaurants to upscale bistros, making it easy to find something to suit everyone's taste. Overall, a girls' getaway in Inverness, Florida is sure to be a fun and memorable experience.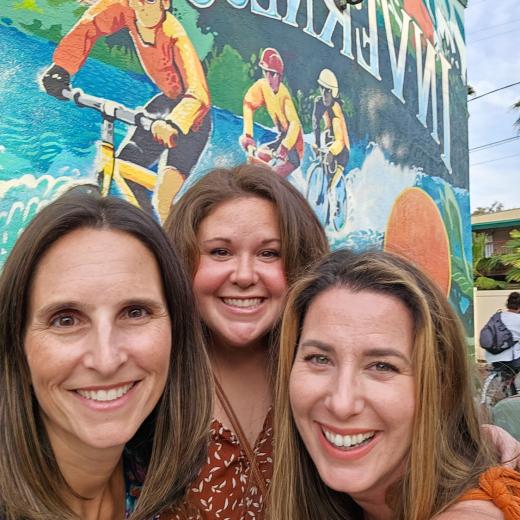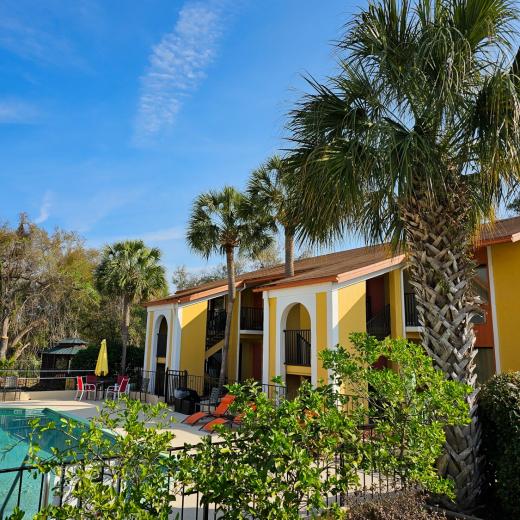 Where to stay in Inverness:

Central Motel - Located in downtown Inverness, Central Motel offers clean and comfortable accommodations at an affordable price. Their rooms include a microwave, mini-fridge, and cable TV.


Lakeside Vacations - Lakeside Vacations offers a selection of private vacation homes in Inverness and the surrounding area. Their properties are located on or near scenic lakes and offer a range of amenities, including fully equipped kitchens, outdoor grills, and boat docks.

Van der Valk Golf Resort Inverness - This resort is located just outside of Inverness and offers a range of accommodations, from hotel rooms to fully equipped villas. The resort also features a golf course, restaurant, and outdoor pool.
The perfect spot for pre-dinner drinks:
Nine State Brewery - A small, family-owned brewery that offers a variety of craft beers on tap. Visitors can enjoy a pint in the taproom or take a growler to go as well as enjoy some homemade Korean food, lovingly crafted by the owner's mother, Jeanie.

Pine Street Pub -Located in the heart of downtown Inverness, Pine Street Pub is a popular spot for drinks and live music. They offer a wide selection of beer and wine, as well as a cozy atmosphere.

The Sidebar Tavern - A friendly neighborhood bar serving local craft beer and wines, live music, and seasonal special events. Located in the heart of the downtown Historic Courthouse Square.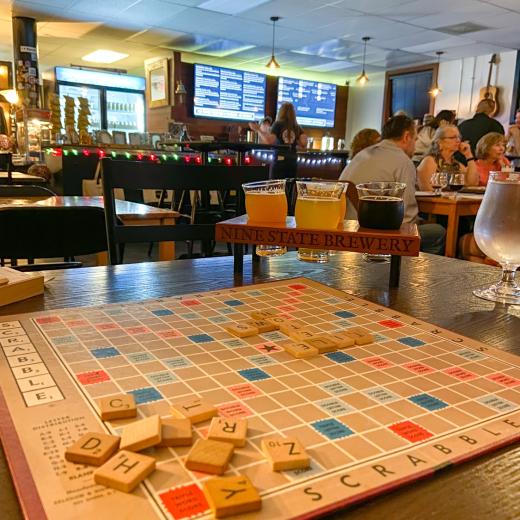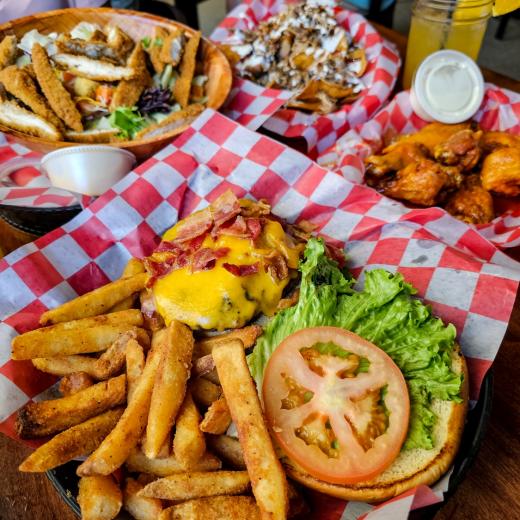 Great Places to Eat in Inverness:
Oscar Penns - A fine dining restaurant with a cozy and intimate atmosphere, serving delicious seasonal dishes made from scratch using fresh ingredients.

The Cove Pub and Grub - This local favorite is known for its friendly atmosphere, great drinks, and tasty food. They serve up classic pub fare like burgers, wings, and nachos, as well as salads and sandwiches.

Cinnamon Sticks - A cozy restaurant located in the heart of downtown Inverness, Florida. This family-owned eatery offers a comfortable, relaxed atmosphere, and a menu that features a variety of American and Mediterranean dishes.

Angelo's Pizzeria and Ristorante - If you're in the mood for Italian, Angelo's is the place to go. They offer a wide selection of traditional Italian dishes, including pizza, pasta, and seafood. The portions are generous, and the prices are reasonable.




Places for coffee in Inverness:
Cattle Dog Coffee Roasters - A locally-owned coffee roaster offering a variety of freshly roasted coffee, pastries, and breakfast sandwiches. We recommend The Cali Toast, Monte-Uno Cristo Brunch Bagel, and Funky Chicken and Biscuit Bread and for drinks we loved the Haystacker, Mocha Espresso Freeze, and the Carmelita.

Cady's Cafe - A full service coffee shop offering signature blends of coffee and tea.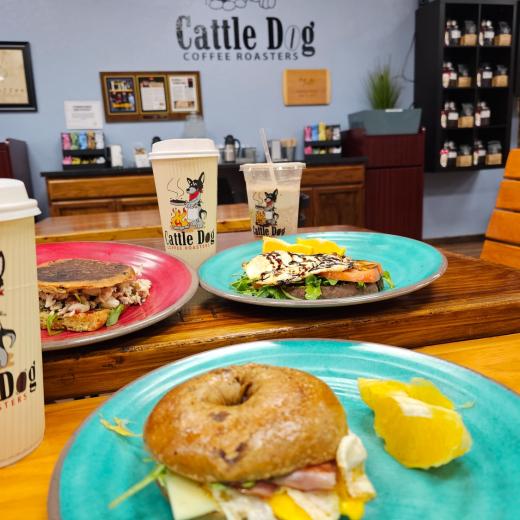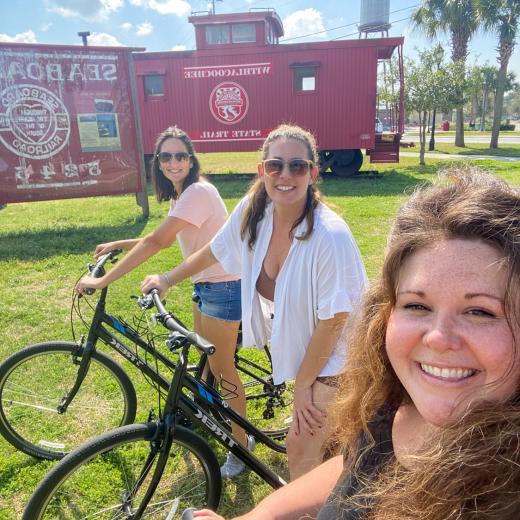 Fun things to do in Inverness:
Withlacoochee State Trail - This popular trail is a must-visit for outdoor enthusiasts. The trail spans over 46 miles and winds through scenic woodlands, wetlands, and towns. Visitors can bike, hike, or horseback ride along the trail and enjoy the beautiful scenery. (We got our bikes from Cooter Rentals: A bike rental shop located near the Withlacoochee State Trail. They offer a variety of bikes for rent and also provide helmets and bike locks.)

The Train Station - A historic train station that now serves as a restaurant and bar. They offer duck-pin bowling, a unique twist on traditional bowling, in addition to their delicious food and drinks.

Fort Cooper State Park - Located just outside of Inverness, Fort Cooper State Park is a great place to explore Florida's natural beauty. Visitors can hike, fish, or picnic in the park, or take a guided tour of the historic fort.
Valerie Theater - The Valerie Theatre is a beautifully restored Art Deco theater in downtown Inverness. Visitors can catch a movie or live performance and enjoy the theater's vintage charm.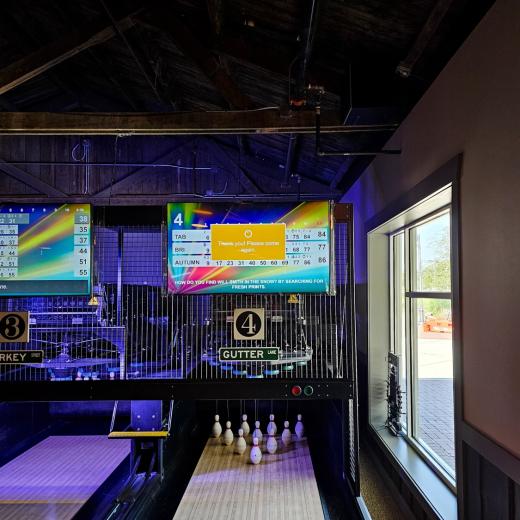 Wild Bill's Airboat Rides - A unique and exciting way to explore the Florida Wetlands. With experienced guides and top-of-the-line airboats, visitors can glide across the marshes and swamps, spotting alligators, birds, and other wildlife in their natural habitats.

Inverness Farmer's Market - The Inverness Farmer's Market is held on the first and third Saturday of every month and features local vendors selling fresh produce, handmade crafts, and more. It's a great place to explore and support local businesses.

Whispering Pines Park - A large community park in Inverness that offers a variety of recreational activities. Visitors can play tennis, basketball, or volleyball, swim in the pool, or enjoy a picnic in the pavilion.

Old Courthouse Heritage Museum - Located in the historic courthouse in downtown Inverness, this museum offers a fascinating look at the history of Citrus County. Visitors can learn about the area's Native American tribes, early settlers, and more.
We loved our time in Inverness, and want to take our families back for more exploring. There were so many outdoor activities and great places to eat, it made our trip so much fun. You can see more on our website and Instagram! Hope to see you there!