The Return of the Manatee
After a near miss with extinction, the Florida Manatee makes an incredible comeback.
By Miles Saunders

Buddy Powell was like a lot of kids growing up in Crystal River and Homosassa.

"I grew up on the water," he remembers. "I used to row my grandma around in her boat so she could fish with a cane pole."

It was in a boat, one day in 1967, that today's James Powell, PhD—world renowned conservation biologist and Pew Fellow-- found his calling.

He noticed a lanky young guy with a long pony tail standing in a Sears and Roebuck Jon boat peering through binoculars. "He didn't have a have a fishing pole or a can of beer," Buddy remembers with a smile. "So I thought, 'he's not from around here'."

It was Daniel Hartman, a graduate student from Cornell University. It was the beginning of the first serious scientific research on a little known marine mammal heading for extinction: the Florida Manatee.

"No one knew anything about manatees back then," Buddy remembers. "There were only about sixty here in winter."
Buddy became Hartman's guide and assistant, motoring around the bay in a new Boston Whaler that Buddy's grandmother left money for when she died. "He was definitely my mentor and it broadened the horizons of this Crystal River kid."
Hartman and Buddy began documenting manatee individuals—some of whom, fifty years later, are still with us today.
Manatee Capital of the World
It's a cold January morning in Crystal River, the thermometer dips close to freezing.

Water vapor rises in little swirls from Three Sisters Springs, the crown-jewel of the Crystal River National Wildlife Refuge on the aptly named Kings Bay. Beneath the surface, more than three hundred manatees safely rest in the warm 73 degree (23c) water. A chorus of loud breaths intermingles with the songs of birds in the surrounding trees.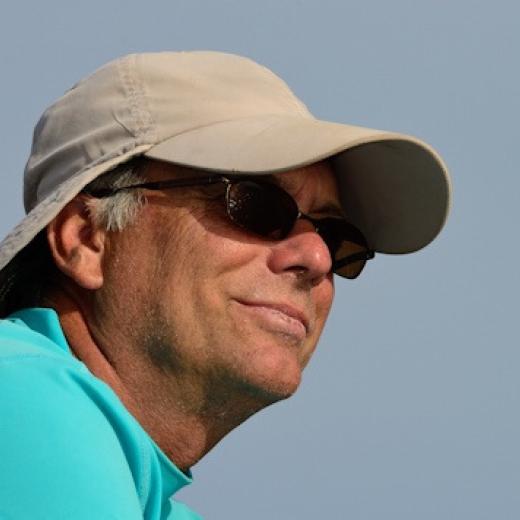 This morning there are also more than 400 manatees at other springs in Kings Bay. Another 250 are huddled into Homosassa Spring a few miles south. There are still more in the Halls and Chassahowitzka rivers--over a thousand in all. One of every six manatees in Florida is here today. It's the Manatee Capital of the World.

On the boardwalk, Cathy Beck of the United States Geological Survey's Sirenia Project works with camera and clip board. She carefully examines prop scar patterns on each manatee and makes corresponding marks on two manatee diagrams.

She knows the name of nearly every manatee we see. "The male manatee Zack is now over fifty years old," Cathy tells me. "He is designated CR-25, which means he is the 25th manatee Hartman and Buddy Powell documented in Crystal River in 1967."

"I still see manatees I've known since I was a kid," Buddy smiles. "For me and other biologists, it's kind of exciting to see old friends come back."

The Manatee Individual Photo-Identification System (MIPS) grew out of Hartman's research and Buddy's early work at Sirenia. It now tracks--not hundreds-- but thousands of living manatees throughout their entire life cycle.

The numbers are impressive. Back when Hartman did the first aerial survey of manatees in Florida in 1973, he found just 255. Now, that number is over 6,000!

The Florida manatee has made a remarkable comeback, so much so that in 2017, the U.S. Fish and Wildlife Service reclassified manatees as threatened, rather than endangered under the U.S. Endangered Species Act. It's a designation for species whose populations have begun to recover but still require protection.


The Road to Recovery
I'm surprised by how high the numbers are now but maybe I shouldn't be," says Buddy, reflecting on the past fifty years of remarkable change.

We talk about key moments that allowed for the protection of not only manatees but their habitat—the passage of the Marine Mammal Protection Act in 1972 and the Endangered Species Act in 1973.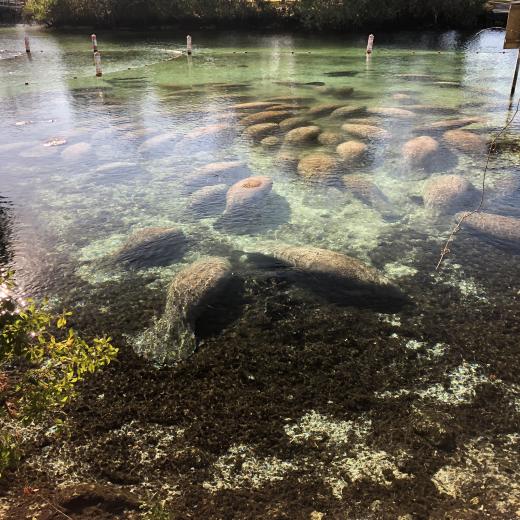 We talk about the formation of the Crystal River National Wildlife Refuge in 1983 to protect Kings Bay as critical habitat for manatees. Buddy had a hand in that too.
We talk about the affinity people have for manatees. "That public good-will has helped protect them to the extent that now we have hundreds of manatees in Crystal River instead of just a handful," Buddy tells me. "We've used Crystal River very often as an example in other countries—some, where manatees were still being hunted—as an example of how people can benefit by preserving these animals."
A trolley has just pulled up at Three Sisters Springs. The small crowd piling onto the boardwalk looks in awe as they glimpse the glimmering turquoise spring and its manatees for the first time. A few feet below, a mother and juvenile manatee simultaneously come up for breath. Children squeal. The small crowd is mesmerized. The extraordinary is what goes for an ordinary day here in the Manatee Capital of the World.
James "Buddy"Powell, is a Pew Fellow in Marine Conservation and Vice President of Research and Conservation for the Clearwater Marine Aquarium Sea To Shore Alliance—a consortium of research scientists working on conservation of coastal eco-systems critical for manatees, sea turtles, Right whales and dolphins.