Just after sunrise, you and your family set out from the Homosassa River, heading toward the open waters of the Gulf of Mexico. Along the way, dolphins race in your wake as the boat cuts through the water. Your guide and captain, a local who has done this more than a few times, tries a few spots before settling on one that will allow your group to find the most bay scallops. Once he throws the anchor down, it's time for everyone—kids and adults alike—to put on the right gear for this adventure: snorkel, mask, fins and a mesh bag.

When you jump into the water you see them, hidden like Easter eggs in the grassy ocean bottom under four-to-six feet of water. Looking closer, their many blue "eyes" glow like tiny lights around the rim of their shells, and some of the scallops attempt to "swim" away, propelling themselves through the water by opening and closing their shells.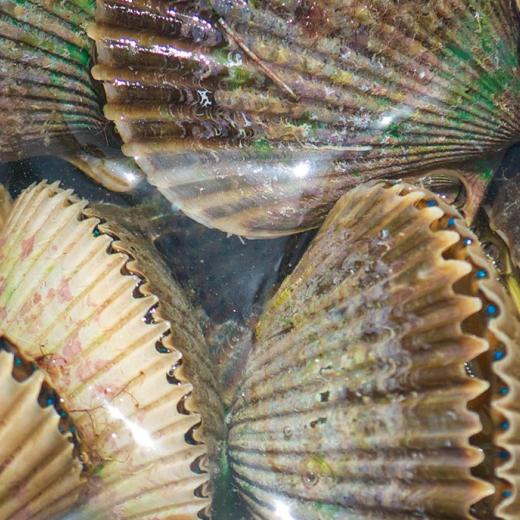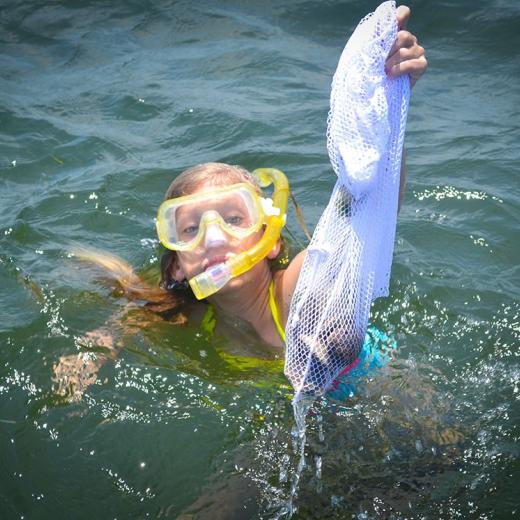 The sun rises higher in the sky and you spend hours collecting these little mollusks and putting them into the mesh bag. In the process, you see starfish, seahorses and other marine animals. When you're done, you might have caught your individual daily limit for scallops—two gallons of scallops in shells per person per day, or one pint of meat per person per day. Regardless, there's always tomorrow for another round.
GETTING THERE
Citrus County is known as the place to be when it comes to scalloping, and for good reason. Every year, thousands of visitors head to the Gulf of Mexico via Homosassa and Crystal River for their share of the summer bounty waiting in the Gulf. Public boat ramps in Crystal River and Homosassa are both excellent launching points for scalloping.
Or simplify your trip by using an experienced guide, who will meet you at the water with everything you'll need for the day.
CHOOSING A GUIDE
Guides are recommended for several reasons. They know the water very well, which means they will be able to take you to just the right spots to find scallops. They also carry everything you need for a day on the water, including saltwater fishing licenses for everyone on board. Captains can answer any scallop- or fishing-related questions. Plus, you don't need to bring a boat.
If you have your own boat, you can go on your own without a guide. But be sure to bring someone who knows the area and the water, and has saltwater fishing licenses for all scallopers over the age of 16. Also be sure to have all required safety equipment onboard, including a dive flag.
ENJOYING YOUR SCALLOPS
Scallops need to be cleaned before cooking. Shells are pried open and meat is removed with an oyster knife. If you go out on the Homosassa River, you can make use of the fish-cleaning station near the boat ramp, and there are usually people nearby who offer to clean your scallops for a small fee. Some captains will also help you with this.
These delectable little bay scallops can be prepared a number of ways. Sauté, fry or broil them. Eat them as is with a plate of French fries and coleslaw, or enjoy them on a salad or in a delicate soup. You can even bring your catch to a local restaurant that will cook them for you. If you would like a restaurant to do the cooking, be sure to call in advance and ask.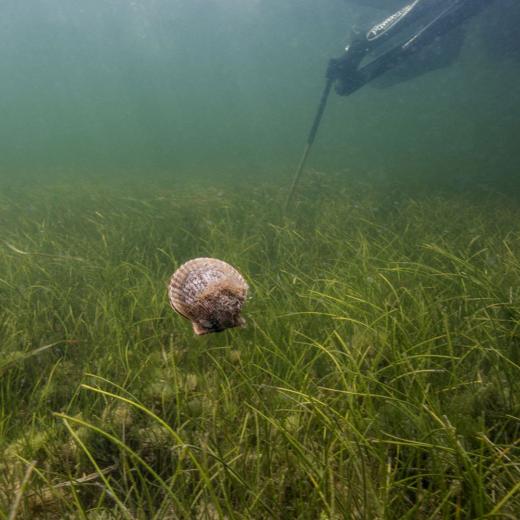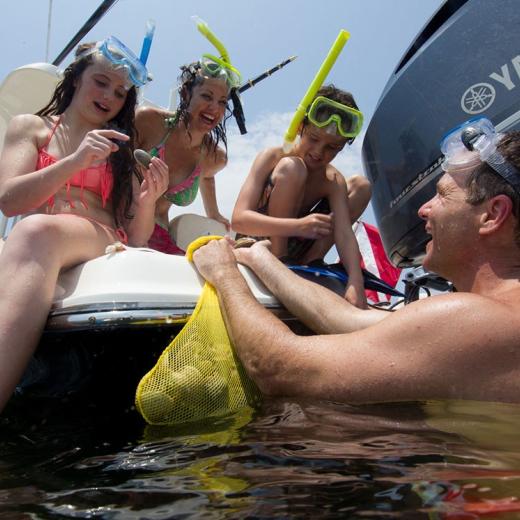 WHERE TO STAY
Many scallopers who come to this area year after year have another tradition that goes along with chasing scallops in the Gulf of Mexico, and that tradition is RV camping. Combine those two activities, and you have a recipe for family fun and memories that will last a lifetime. There's nothing quite like coming back to camp and spending time with family beside the campfire after a long day on the water.
There are plenty of RV campgrounds in the area to choose from. Try Rock Crusher Canyon RV Park and Crystal Isles RV Resort in Crystal River or Camp 'N' Water Outdoor Resort in Homosassa.
Not RV camping? There are many fun accommodations that will pair well with your scalloping adventures. In addition to many hotels, there are bed and breakfasts, vacation homes and condominiums along the Citrus Coast.
WHAT TO BRING
Scalloping guides take care of most of the work, but you'll still want to be prepared with the essentials, including sunscreen, drinks and possibly a cooler with ice. Many guides will provide the cooler to keep scallops cold, but call ahead to see what you'll need to bring and what you should leave at home. Recreational bay scallop harvesting runs from late June to late September. Get a free visitor guide and plan your Citrus County scalloping adventure.