Paddling in Discover Crystal River Florida
It's time to grab a paddle and make a splash in the Kayaking Capital of Discover Crystal River Florida.
Brimming with rivers, lakes, marshes, mangrove islands, and salty surf, watery adventure is always just around the bend. And whether you're a beginner or an expert, our host of well-equipped outfitters and legendary guides can make a great day of paddling as easy as falling out of a boat. Or off a board.
The three best river options for paddlers are the Crystal River, Homosassa River and Chassahowitza River, each with its own distinct natural beauty and features. But how to choose the best for you and your crew? Allow us to share some info to help you chart your course.

Crystal River

Widely known for the popular Three Sisters Springs, Crystal River is one of the top places to kayak for manatee sightings. Connecting the spring system of Kings Bay and the Gulf of Mexico, Crystal River offers paddlers seven miles of beautiful waters to explore. The river's name holds true around its epic springs, with crystal clear waters making it easy to observe our favorite residents, the majestic manatee. During manatee season, areas close to the springs are roped off as sanctuaries for the friendly sea cows, but there are still plenty to see as they come and go along the river.

Crystal River is great for a beginner paddle or a seasoned expert, Class II.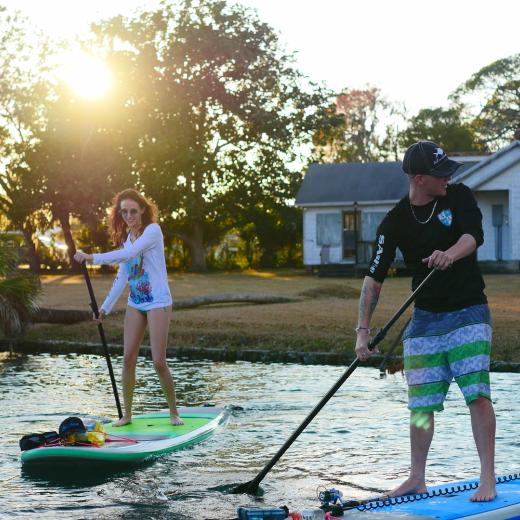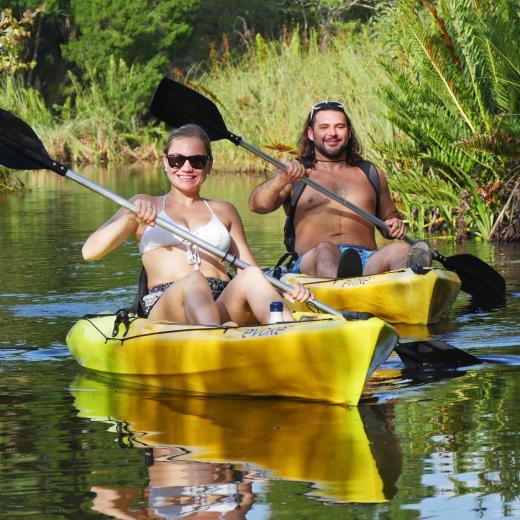 Homosassa River

Not to be outdone, the Homosassa River is another top site to paddle alongside the gentle manatees, along with a little more wildlife. The river is roughly 7.7 miles long, with brackish waters and opportunities to see fresh and saltwater fish swim alongside one another.

The Homosassa River offers other sites to see along it's winding route. Paddle by Monkey Island to see spider monkeys frolicking on their own private island. And keep your eyes peeled for stingrays and dolphins along the banks.

Like its "crystal" cousin, the Homosassa River is great for beginners or experts, Class II.
Chassahowitzka River

If a true wildlife experience is what you're after, look no further then the spring-fed Chassahowitzka River, aka "The Chaz." The river is part of a National Wildlife Refuge, home to birds, otters, and of course, a gator or two.

The slow-flowing river leads directly into the Gulf of Mexico, making it perfect for an easy paddle, but that doesn't mean it's without adventure. Explore creeks and springs along the way, full of small islands to step out and enjoy a picnic, or just a few stable moments on land. A fan favorite is the spring called "The Crack". It is a perfect spot to stop and dip your toes in the cool water.

There is also a large shallow spring named Seven Sisters. With a series of underground caves, it's the perfect place for advanced divers to explore.

The Chassahowitzka is the wildest of the big three, but still easy enough for an intermediate paddler, Class II.

No matter which river you choose to paddle, our trusted outfitters are ready with rentals and tours!