Marvelous Murals
Over 20 colorful public art displays and murals celebrate nature, history and heritage across Crystal River, Homosassa, Inverness, and Floral City on Florida's Gulf Coast.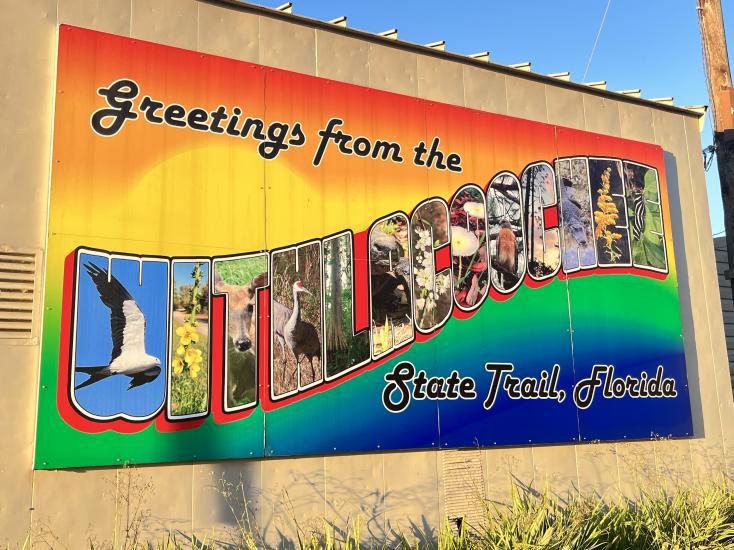 All around the world, community murals are becoming centerpieces of cities and towns, bringing people together to celebrate their local culture and history. They add color to building walls and streets, drawing attention to local businesses and landmarks, boosting local economies, and creating new ways to discover and interact with a city, its arts, and its people. Spanning a wide variety of graphic styles, these murals encourage people to slow down and appreciate their surroundings, and even serve as collective thought spaces, creating dialogue around important subjects or community issues.

This cultural phenomenon is riding a rising tide of creativity in four Old Florida towns along the central Gulf Coast – Crystal River, Homosassa, Inverness, and Floral City – where more than 20 colorful murals have recently sprung up, to the delight of visitors and locals. Artists inspired by the area's natural beauty have poured their hearts into each original work, highlighting local ecological and cultural icons, and helping fuel this growing community mural project.
Read on to discover where to find each mural and be sure to use #DiscoverCR when you post photos of your favorites on social media!
The Kraken

One of the most popular is "The Kraken," an octopus that is the star of a 16-foot-high mural on the side of Salty Girls Beach Shop in Crystal River. Shop owner DeAnna Boyer partnered with the City of Crystal River on its Beautification Project, and transformed her exterior walls to public works of art. After meeting William Mickey, a local artist who was awarded the project, the ideas started flowing. Just six weeks later, The Kraken was releases and visitors immediately began posing for a photo of The Kraken handing them a starfish.
DeAnna is so happy with her masterpiece, she feels like she's seeing it for the first time, every time. "Every time I drive by, I smile," she said. "How can I not? He's awesome!"
Crystal River

Salty Girls Beach Shop
1 US-19, Crystal River, FL 34428




The Adventure Starts Here

This mural was done in conjunction with The City of Crystal River as well. Owners Kim and Anthony Altman were thrilled for the opportunity to incorporate their love of the water and bring their surroundings to life. If you go, wave hello to the "kayak lady" and Tom Burns – a former captain at Explorida – both real, local legends!
Crystal River
Explorida Store and Manatee Tours
545 N Citrus Ave, Crystal River, FL 34428




Crystal River's Mermaid

The artist, Rachel Ford, decided to paint a mosaic image, though she is primarily a painter. Her mother, Lorelei, which means mermaid, taught her mosaic at a young age, often using cement or broken dishes to make beautiful garden steppingstones. Rachel said the mural wasn't intended to revolve around her mother, but either way, we're glad this stunning mermaid mural was created.
Crystal River
All About Nails and Hair Salon
905 US Hwy 19, Crystal River, FL 34429




Fun Galore

A bright and vibrant local shop, Hunter Springs Kayaks is home to several beautiful pieces, both small and large! From adorable, hidden otter friends to a map of the world famous Kings Bay and their newest addition, a large rendition of a snorkeler face-to-face with one of our beloved manatees, there's so much to appreciate.
Crystal River
Hunter Springs Kayaks
36 Northeast 4th Street, Crystal River, FL 34429




Grab Life By The Horns
When you're on vacation, you tend to take it easy – but not at this stop on the mural roadmap. Kane's Cattle Co. is one of the best casual fine dining steakhouses on the Gulf Coast, and after one meal, and a photo with the bull, you'll leave your visit grabbing life by the horns!
Crystal River
Kane's Cattle Co.
508 N Citrus Ave, Crystal River, FL 34428
Florida is a Wildlife Wonderland
The newest mural in Crystal River was commissioned by the Florida Wildlife Corridor Foundation. It was skillfully created by artist Kelly Quinn from Canvas of the Wild and features species native to the local ecosystem, including Florida black bears, roseate spoonbills, and, of course, manatees. Local trekkers and 12 Lecanto High School art students came out one morning to help Kelly paint the mural in mid-September 2022. According to the Florida Wildlife Corridor Foundation, this unveiling commemorates the first installation of the Corridor Foundation's multi-town mural campaign which brings communities together near at-risk connections to protect their corner of the Florida Wildlife Corridor.
Crystal River
Across from Norton's Bar and Grill
35 NE 5th St., Crystal River, FL 34429




The Crystal Blue Manatees
Step INSIDE this mural when you stay at the Crystal Blue Lagoon Bed & Breakfast in Downtown Crystal River. This magical experience is nearly as fun as swimming alongside manatees and is a great visualization of the nearby King's Bay Refuge during Manatee Season.
Crystal River
Crystal Blue Lagoon Bed & Breakfast
244 NE 2nd Ct, Crystal River, FL 34429
Bonus: Family Ties
While this piece isn't a mural, it's certainly a work of art – and it was a labor of love! This sculpture is called "Family Ties" and was donated by UF Health Shands Children's Hospital. It serves to inspire children and families to embrace nature though discovery, education and conservation.
Crystal River
at Crystal River National Wildlife Refuge Visitors Center
1502 SE Kings Bay Dr, Crystal River, FL 34429
Majestic Manatees
The Plantation on Crystal River has no shortage of manatee art for visitors to enjoy!
Surrounding a beautiful carved fountain featuring six carved manatees, you will find murals nestled among the flower beds, adding a little extra beauty to the already breathtaking entry to this wonderful resort.
Over at the on-site adventure center you will find another masterpiece featuring scallopers, kayakers, red fish, and of course, a manatee!
Crystal River
The Plantation on Crystal River
9301 W Fort Island Trail, Crystal River, 34429
Guy Harvey Loves The Manatees
This mural is particularly special as it was done in conjunction with Guy Harvey and was created by Robert Wyland. Known as one of the most celebrated artists and conservationists, Robert Wyland expertly left his mark in Homosassa, and we couldn't be more thrilled to show it off. This beautiful mural is fun to pose in front of and will keep you mesmerized long after.
Homosassa
Ellie Schiller Homosassa Springs Wildlife State Park Visitor Center
4150 S Suncoast Blvd, Homosassa, FL 34446




Let's Hit The Trail
Along the 46 miles of the Withlacoochee State Trail, one of the best sights is the mural paying homage to the wildlife visitors can spot along this paved path. The mural was created by three very dedicated volunteers who help to maintain the trail: Candace McLean, Linda Reiland and Heather Nagy. Whether you're cycling, walking, or even riding horseback, there is so much to enjoy along the longest paved trail in Florida.
Inverness
Withlacoochee State Trail Inverness Trailhead
321 N Apopka Avenue, Inverness
Citrus Splash
A word from the artist: "The prompt for my mural "Citrus Splash" was to capture the spirit of Inverness. While Jessica and I were familiar with the area, we made a point to visit and really observe & take in the town. If you look at the mural you can see that we incorporated a lot of local sights. We also researched town history a bit, and worked to incorporate historical sites. Once we had our subject material, it was just a matter of laying it out in a way that compositionally made sense and was pleasing to look at... (The reaction from the public) has been fantastic. We felt really embraced by Inverness while in the area. There was one woman who even brought me milk and cookies one day while I was working. The owner of Coach's Pub and Grill enjoyed the mural so much that he requested an extension while the original was still in process."
Inverness
Coach's Pub and Eatery
114 W Main St, Inverness, FL 34450




Old Florida Charm
Spanish moss dripping from the branches of oak trees is one of the most quintessential "Old Florida" sights. In the quaint, one stop light, town of Floral City, you will find the Avenue of the Oaks, a canopy style road offering this exact experience. At the start of this magical road you will find a mural celebrating this rare beauty.
Floral City
Red Brick Place
8305 E Orange Ave, Floral City, FL 34436