Hooked on Florida Fishing
Citrus County's range of scenic waterways on both its coastal and inland borders are worth the trip even if you never cast a line.
HOTSPOTS FOR ANGLERS IN CITRUS COUNTY

It's not just the legendary fishing that draws a crowd. In Florida, it's easy to find decent fishing just about everywhere you go. What can be tough, however, is finding a location where anglers can mix it up and enjoy different types of trips. This is where Citrus County excels, and is why it is one of the top destinations for year-round adventure on the water.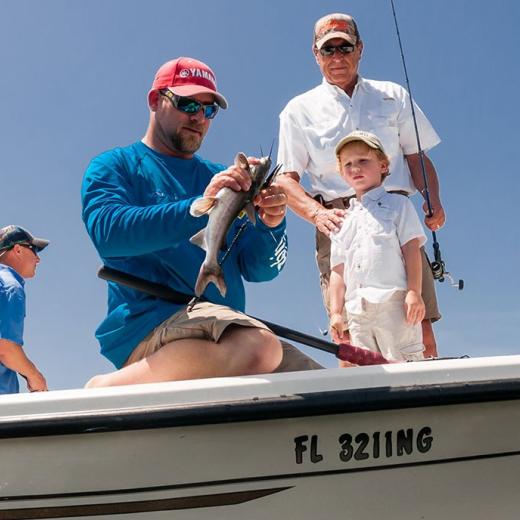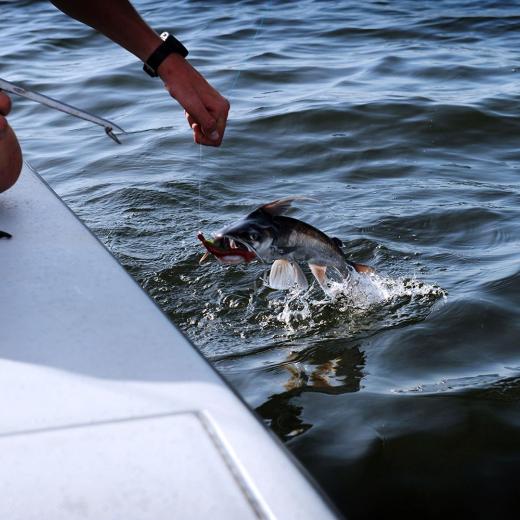 GO COASTAL, OR GO FRESH
You'd be hard-pressed to find a local or regional angler who hasn't heard of the Chassahowitzka, Halls, Crystal or Homosassa rivers. These are tried-and-true classic adventures, featuring gin-clear freshwater springs, raw and untamed landscapes and boatloads of fish. Hunt for both freshwater and saltwater species here, with bass, sheepshead, mullet and bluegill being a few of the common catches near the headwaters.
As these rivers make their way to the Gulf of Mexico, anglers cruise shallow grassy flats teeming with redfish, spotted sea trout, snook and tarpon. Here in the backcountry, dolphins and manatees are commonly spotted, turning a regular day of fishing into a full-blown eco-tour. Both motorized and self-propelled craft are right at home in Citrus County. Kayaks and stand-up paddleboards are perfect for getting in close to mangrove islands, traversing skinny tidal creeks, and working through Kings Bay and Ozello. When on the water, watch these paddlers—they frequently bring in larger catches than their motorized counterparts.
Offshore, anglers target cobia, amberjack, gag grouper, red grouper and other species that call the deeper waters home. In early summer and late fall, the grouper fishing is exceptional in both near-shore and offshore waters.
In the summer months, don't miss a chance to take a trip to Citrus County's famous scallop beds. Bay scallop season typically runs from late June to late September, and the waters off of Crystal River and Homosassa are two of just a handful of places in Florida where recreational harvesting of bay scallops is allowed.
This is one of the coolest adventures for the whole family and is a tradition for most that live in the area. It doesn't take much to get involved, either—a boat (of course) and a mask, snorkel and fins are just about all you need to get going with scalloping. Once in the water, snorkel along slowly while looking down toward the grassy bottom—scallops are easy to spot and grab, and it's probably the most fun you've ever had while catching dinner.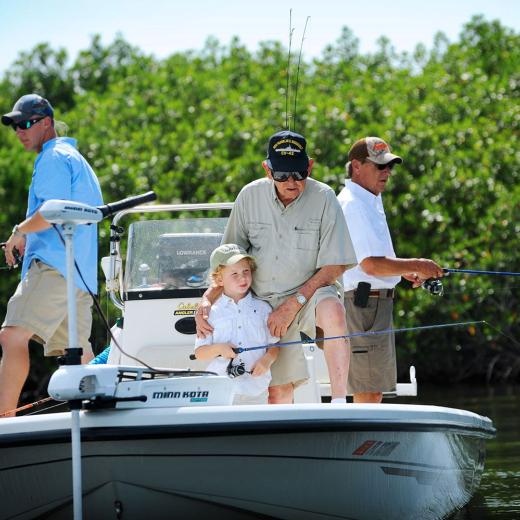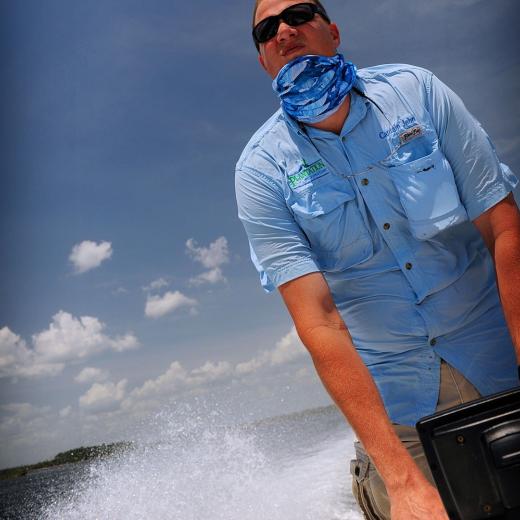 INLAND LAKES AND RIVERS
Off the coast, the 19,000-acre Tsala Apopka chain of lakes near Inverness is home to an abundance of freshwater species, and is considered a prime location for largemouth bass. During the spring and fall seasons, anglers target bass using live shiners in flowing canals. Shellcracker and bluegills are abundant throughout the chain as well, making this a quality year-round freshwater fishing destination.
On the Withlacoochee River, time seems to stand still. Forming the eastern border of Citrus County, this is one of the area's hidden gems, with ancient cypress trees standing guard along the shoreline. For those seeking solitude, this is the place to be. I practically grew up in a boat here, fishing with my dad and brother between Highways 48 and 44. There are hundreds of secret holes along this stretch of the Withlacoochee, holding catfish, stumpknockers, bluegill and other species. For more information about bluegill fishing, visit www.ontrackfishing.com/bluegill-fishing.
TRADITION
Fishing is a way of life in Citrus County that goes back generations. Some of the best fishing guides found anywhere—inshore and offshore—are right here in Citrus County, with experience gained from a lifetime on the water. Whether you are visiting with your own gear or you are looking for a fully supported adventure, these professional charter captains can introduce you to the fish quickly.
While here, spend time swapping fishing stories—or just watch boats come and go—at laid-back places like MacRae's or the Monkey Bar in Homosassa, Cracker's in Crystal River, or Peck's Old Port Cove in Ozello. Bonus points: plenty of restaurants in Citrus County will cook up your fresh catch, too. Also, there's no need to dress up—just put on your best fishing shirt and you'll fit right in.
I've spent an abundance of time on the water in Citrus County—too much, some would say—and I still feel like I've only scratched the surface of places to explore. If you are into truly unique destinations, and fantastic fishing, Citrus County is where you need to be.
GET HOOKED ON FLORIDA FISHING BY PLANNING YOUR NEXT TRIP TO CRYSTAL RIVER!