Boards, Boats, Bikes, & Brews
At First, a Vacation with Five of My Closest Friends in A Bustling Metropolis Seemed Like the Best Way to Burn Some Hard-Earned Time Off.
After spending the better part of a week in the Tampa Bay area, we'd grown tired of the city and craved adventure like never before. We decided that the next five days were going to be different—really different. Our goal: to see the real Florida, to sleep under the stars and to explore the wild places that can't be found anywhere else.
ADVENTURES IN THE REAL FLORIDA, CITRUS COUNTY
With little more than clothes and some basic camping gear, we headed out on U.S. 19 at sunrise, prepared for nothing but ready for anything. Unsure about where we were going, we decided to drive north until we found something that caught our attention. Our spirits lifted with each mile we traveled as thick traffic gave way to open road. The sun crept higher, and we passed a sign telling us we were in Crystal River, "home of the manatee." This looked like a place we needed to see. "Pull over," I said.
DAY 1
PADDLE BOARDING IN PARADISE 9 A.M.
We drove around town and found Aardvark's Kayak & SUP, where we rented stand-up paddleboards. Three Sisters Springs, we were told, is the one place we must not miss. A quick paddle from Hunter Springs Park found us at one of the most beautiful places we'd ever laid eyes on. Clear, glistening water of three springs invited us in for one cold swim, and on the way back, our hearts pounded as we caught glimpses of manatees in King's Bay.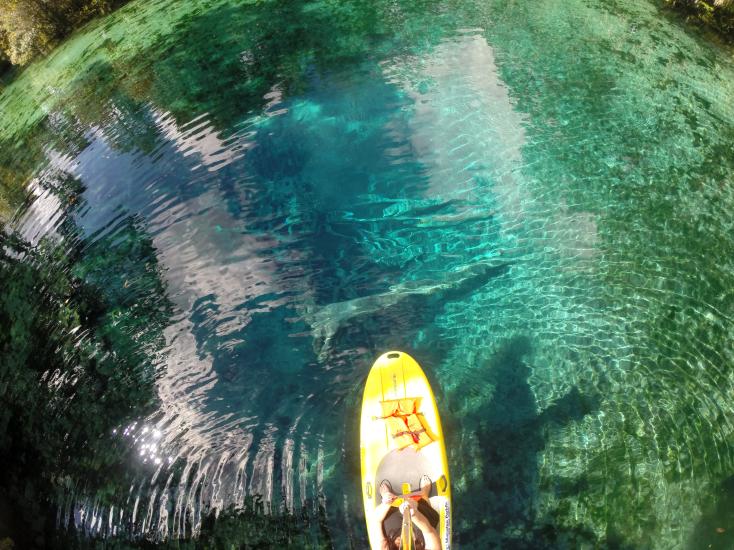 BEER OVER THE BAY 1 P.M.
On the recommendation of another paddler at Three Sisters, we took our raging, swim-fueled appetites to Cracker's in Crystal River, where we sat outside, taking in the salty breeze and sipping cold beer. Between bites of fresh grouper, fish tacos and fried gator (yes, gator), we asked our server for ideas about where to camp. "We want to see the real Florida," we told her.
BASE CAMP: CHASSAHOWITZKA 4 P.M.
Chassahowitzka River Campground in Chassahowitzka, near Crystal River, sounded like a seriously out-of-the-way spot, but thankfully, it turned out to be easier to find than it was to pronounce. We took turns working to set up our campsite in the woods and were more than grateful for the hot showers the campground provided. Thanks to a chat with our camp hosts, we knew exactly where our adventure would take us in the morning.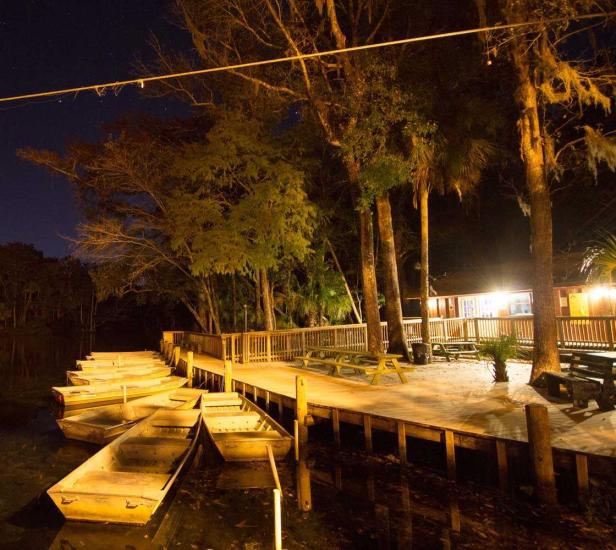 DAY 2
ROPE SWINGS AND HIDDEN SPRINGS 9 A.M.
A quick walk from camp found us at the Chassahowitza River in a fleet of rental kayaks. First we saw Seven Sisters Spring, one of the more popular springs and the easiest to access. We couldn't resist a quick jump from a rope swing along the way. We found out "the Chazz," as locals call it, has many springs and creeks—too many to see in a single day. We set out to find a spring called The Crack, a local favorite, which we discovered by paddling down the river to Baird Creek, seeing birds, otters, turtles, fish and an alligator along the way. We reached the spring run and spring, where we splashed the day away before heading back.
Blissfully tired, we grabbed supplies from the camp store and whipped up some fireside fare before calling it a day.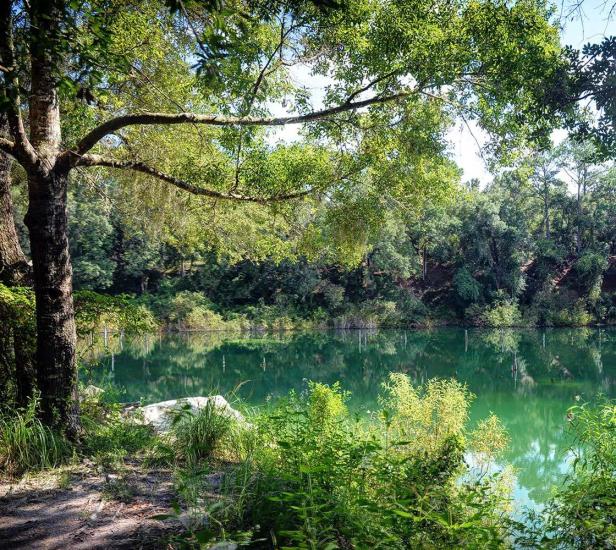 DAY 3
TILT, SWIRL, TASTE 10 A.M.
We gleaned our next big travel tip from a couple camping at Chassahowitzka the same time we were. They broke camp to explore Copp Winery & Brewery, back in Crystal River, so we decided to break camp and tag along.
The best things in life are free, including our quick wine sampling. We learned to look for color, tilt, swirl and smell the samples, taking in each taste's unique qualities. We were also eager to try Copp's craft beer on tap. (Little bit of trivia: Copp is the first and only winery in Florida to also hold a brewpub license.)
WITHLACOOCHEE WOODS | 2 P.M.
During our time in Crystal River, more than one person recommended the Withlacoochee State Forest as a prime hiking spot, so we drove about 15 miles into Inverness to Holder Mine Recreation Area, where we set up camp with access to four hiking loops that we were told are some of the best places to trek in the state.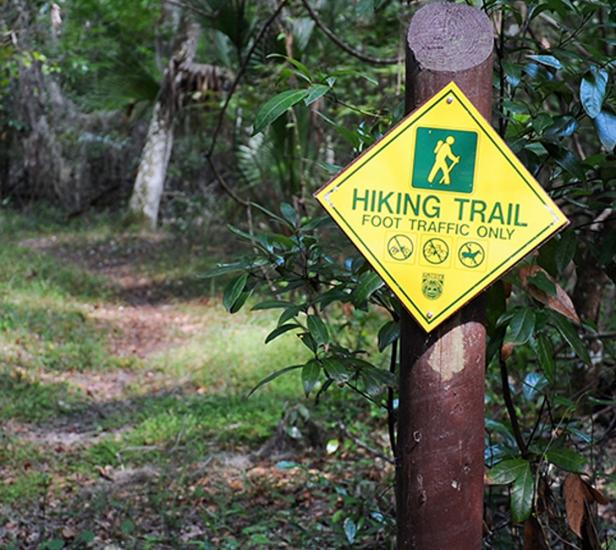 DAY 4
HITTING THE TRAIL 9 A.M.
After days in flip-flops, it was time to give our hiking boots a workout. The hilly 8.6 miles of Citrus A Loop were exactly what we needed to fully immerse ourselves in the wild Florida we were craving, and the journey was rugged enough to remind us of the lower Appalachians—a pleasant surprise, and one that has forever changed our view of Florida hiking as purely flat and sandy.
FLAVORS OF FLORIDA 4 P.M.
Showered, ravenous and as cleaned-up as a bunch of dirtbag travelers could be, we happily took our seats on the deck of McLeod House Bistro, a place that we heard offered a great atmosphere and delicious foods, many inspired by the Florida Keys. The historic house dripped Southern charm, and late-afternoon light sliced through the live oaks and Spanish moss while we ate. Good old-fashioned key lime pie, fresh fish, and salads topped with the chef's own raspberry-hibiscus vinaigrette brought out some of the best flavors of Florida. But there was something else that caught our attention: many of the other guests weren't arriving by car—they were arriving by bike.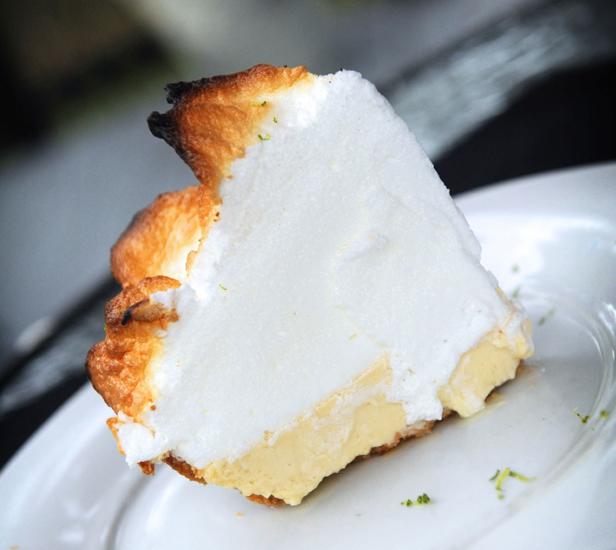 DAY 5
BICYCLE SUPERHIGHWAY 9 A.M.
We were sad our adventure was coming to an end, but we couldn't wait to follow up on some good tips we got at McLeod House the day before. Turns out, it wasn't just McLeod House filling up with cyclists, it was the whole of downtown Inverness, an area we realized is booming with bicycle activity thanks to the nearby Withlacoochee State Trail, a 46-mile paved bike trail that draws visitors from all over. We rented some bikes from Suncoast Bicycles in Inverness, and headed out for an easy ride on the WST to Floral City. There, we discovered a new obsession: fresh strawberries and strawberry shortcake found right off the trail at the seasonal retail store of local grower Ferris Groves.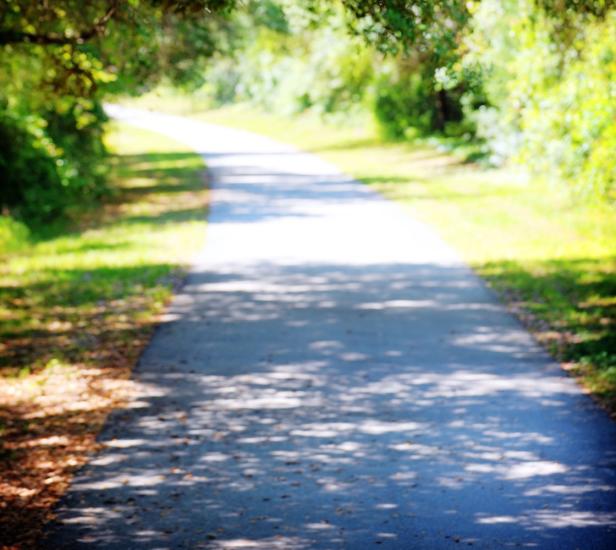 TOAST TO ADVENTURE 2 P.M.
Back in Inverness, we explored the downtown area by bike, wheeling in to a little Irish pub bustling with activity. We fought our way inside, and it was worth the wait for the food selection at Pine Street Pub and for the imported and local brews it offered. Some of our Florida favorites: Florida Cracker (Tampa), Southern Grit (by Copp Winery in Crystal River) and Pindo IPA (Tampa).
Later, we packed up camp and headed home, already thinking about our next adventure. In the rearview, I watched as the manatee sign on U.S. 19 faded away and looked around at the travelers around me—we were a little sunburned, a little sore and happily tired, all proof of days well spent.
GET CONNECTED WITH THE REAL SIDE OF FLORIDA IN CITRUS COUNTY BY PLANNING YOUR ADVENTURE TODAY!