A Fin-Flipping Good Time
Are you looking to make a splash on your next vacation? Crystal River is the perfect destination for those who consider themselves mermaids at heart!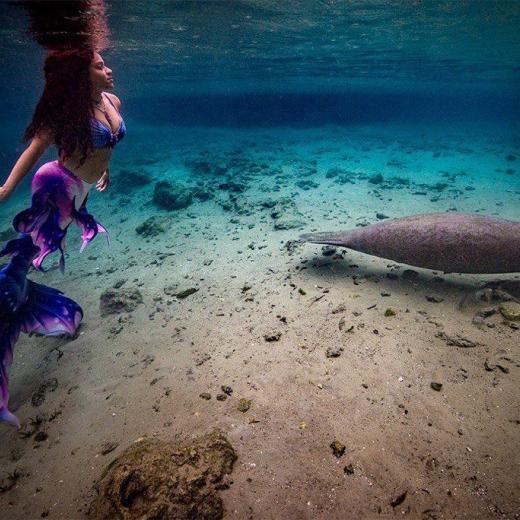 Not only is the city the nation's manatee capitol of the world (these animals are largely thought to be the inspiration for the mermaid legends) but there are a few amazing local businesses that cater specifically to merfolk!

Crystal River Watersports and Bird's Underwater Dive Center both offer single day Beginner's Mermaid Courses that are perfect for visitors who want to experience the thrill of swimming like a mermaid using the dolphin kick method and one large tail fin, also known as a monofin.
If the sea is truly calling your name and you have to take home a tail of your very own, the Mertailor has everything you need to look the part.
Crystal River Watersports:
This "Try Mermaid" course gives participants an opportunity to earn a Scuba School International (SSI) certification, while learning the basics of how to swim with a monofin! Participants should schedule about four hours for this course.

The course is open to everyone age six and older who can swim 12 meters. No previous mermaid experience necessary, the class will cover the basics and help you get your fins wet.

Tails are available for use during the course, as well as available for purchase inside the dive shop.

With experienced dive instructors guiding you, this experience is sure to be fun and instructional for the whole family!
Click here to book your class online today: Online Booking
Bird's Underwater Dive Center:

The course offered by Bird's Underwater certifies participants in the Scuba Diving International (SDI) Beginner's Mermaid Course. Participants are also given their own "Guppy Tail" to keep, courtsey of the Mertailor.

This course is limited to four merpeople per class, giving participants the chance to receive hands on instruction and direct focus from the instructor.

Participants will spend a total of four hours in the water with the instructor and MUST complete an online instruction course prior to arriving.

Once you have learned the ropes, instructors will take underwater portraits of each individual mermaid for participants to take home and cherish forever.

Mermaid Jazz is an experienced diving professional who is sure to make all participants feel right at home among the fishes!

Click here to book your class online today: Online Booking
The Mertailor:

Citrus County is home to the world renown mermaid tail creator, the Mertailor! During the 15 years he has dedicated himself to this art, Eric Ducharme has created masterpieces for Hollywood icons like Lady Gaga and the cast of Saturday Night Live, but also for everyday individuals who want to add a little magic to their lives.

With Eric's presence in the Citrus County, the merfolk community has grown, creating a very unique culture full of creative and imaginative people who want to bring their underwater fantasies to life!

Recently, the Mertailor team has announced that they will be opening a new location for not only their tail production, but also a showroom for customers to purchase their creations and watch live mermaid performances while learning about vital Florida ecosystems.

Visit their website to view all the amazing pieces for sale: Shop Now
Citrus County welcome all those with dreams of life under the sea. Be sure to check out our "Dining" and "Things to Do" pages for more information on how to make your trip unforgettable!