Sunday Matinee: It's a Wonderful Life
This event has expired and is here for your information.
December 22, 2019
@ 3:00 PM - 5:00 PM
Discover a cultural experience in Downtown Inverness. The Valerie Theatre Cultural Center is open with lots of exciting shows on the horizon. Movies, concerts, plays, educational exhibits, and special events are just some of the entertainment offered here. The rebuilt theatre seats 150 and includes a balcony with high top tables and chairs.

IT'S A WONDERFUL LIFE (NR): Small town hero, George Bailey, can't seem to get out of his hometown of Bedford Falls. He eventually marries his highschool sweetheart and settles down to raise a family and help the poor folks buy their own homes with his family's Building and Loan. When some misplaced money gets into the hands of greedy Mr. Potter, George loses all hope until Clarence, Angel 2nd class, eager to earn his wings, shows him what life would be like without him. Starring Jimmy Stewart, Donna Reed and Lionel Barrymore. Directed by Frank Capra.

Tickets can be purchased on line or at the box office, which is open noon to 4 pm, Thursday through Saturday and always one hour before any showtime.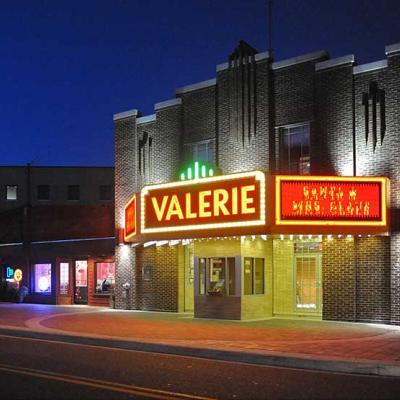 This beautifully restored theatre on Courthouse Square was built in 1926 and named for the owners daughter. Elvis Presley and the crew of the movie "Follow That Dream" viewed daily takes of filming...