Sunday Matinee: A Christmas Story
This event has expired and is here for your information.
December 15, 2019
@ 3:00 PM - 5:00 PM
Discover a cultural experience in Downtown Inverness. The Valerie Theatre Cultural Center is open with lots of exciting shows on the horizon. Movies, concerts, plays, educational exhibits, and special events are just some of the entertainment offered here. The rebuilt theatre seats 150 and includes a balcony with high top tables and chairs.
A CHRISTMAS STORY (PG): All Ralphie wants for Christmas is an official Red Ryder Carbine-Action Two-Hundred-Shot Range Model Air Rifle and to catch bad guys. The only problem is his mom, his teacher and even Santa think he'll shoot his eye out! Between the Old Man who battles with the evil neighbor dogs, the school bully who beats up on his own loyal sidekick, the little brother who has outgrown his snowsuit, which is so tight that he walks around looking like the Michelin man or the aunt who thinks a pink bunny suit is the perfect Christmas gift, will Ralphie ever get his beloved BB gun?Starring Darrin McGavin, Melinda Dillon and Peter Billingsley.
Tickets can be purchased on line or at the box office, which is open noon to 4 pm, Thursday through Saturday and always one hour before any showtime.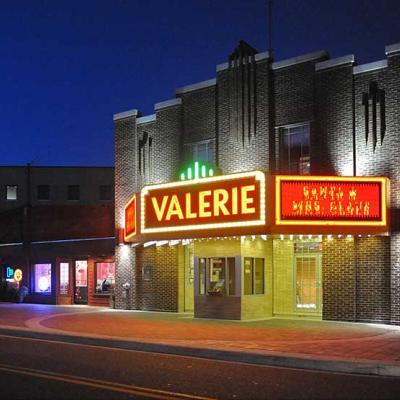 This beautifully restored theatre on Courthouse Square was built in 1926 and named for the owners daughter. Elvis Presley and the crew of the movie "Follow That Dream" viewed daily takes of filming...