Sunday Classic Cinema: The King's Speech (R)
This event has expired and is here for your information.
October 18, 2020
@ 3:00 PM - 4:30 PM
The Valerie Theatre Cultural Center is open with lots of exciting shows on the horizon. Movies, concerts, plays, educational exhibits, and special events are just some of the featured entertainment . The rebuilt theatre seats 150 and includes a balcony with high top tables and chairs.

This Sunday's Matinee feature's "The King's Speech" (Rated R) starring Colin Firth, Helena Bonham Carter, and Geoffrey Rush, where Britain's Prince Albert must ascend the throne as King George VI, but he has a speech impediment. Knowing that the country needs her husband to be able to communicate effectively, Elizabeth hires Lionel Logue, an Australian actor and speech therapist, to help him overcome his stammer. An extraordinary friendship develops between the two men, as Logue uses unconventional means to teach the monarch how to speak with confidence. Colin Firth won an Academy Award for his role as King George VI.
Tickets can be purchased on line or at the box office. The box office is open Thursday through Saturday, 10-4 and one hour before any show. **Please be aware CinemaSafe Guidlelines will be in place for you safety and all guests are required to wear masks while in movie theatre.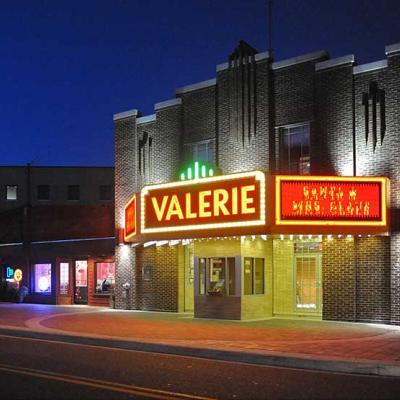 This beautifully restored theatre on Courthouse Square was built in 1926 and named for the owners daughter. Elvis Presley and the crew of the movie "Follow That Dream" viewed daily takes of filming...