Friday Night Fright: Rosemary's Bab (R)
This event has expired and is here for your information.
October 30, 2020
@ 7:00 PM - 8:30 PM
The Valerie Theatre Cultural Center is open with lots of exciting shows on the horizon. Movies, concerts, plays, educational exhibits, and special events are just some of the featured entertainment . The rebuilt theatre seats 150 and includes a balcony with high top tables and chairs.
Rosemary and Guy Woodhouse move into an apartment in an opulent but gothic building in Manhattan. Their landlord Edward "Hutch" Hutchins attempts to dissuade them from doing so: the building has an unsavory history. They discover that their neighbors are a very friendly elderly couple named Roman and Minnie Castevete, and Guy begins to spend a great deal of time with them. Soon, strange things begin to happen: a young woman Rosemary meets in the laundry room seems to commit suicide, Rosemary has strange dreams and hears strange noises, and Guy becomes remote and distant. Then Rosemary gets pregnant and begins to suspect that her neighbors have special plans for her child. Starring Mia Farrow, Ruth Gordon and John Cassavetes. Directed by Roman Polanski.
Tickets can be purchased on line or at the box office. The box office is open Thursday through Saturday, 10-4 and one hour before any show. **Please be aware CinemaSafe Guidlelines will be in place for you safety and all guests are required to wear masks while in movie theatre.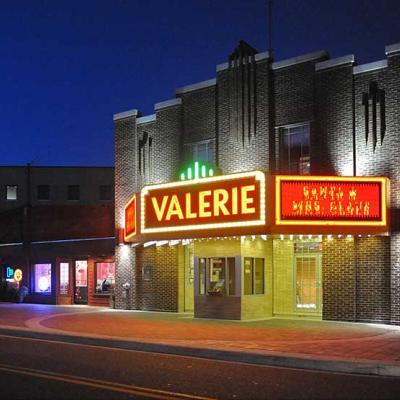 This beautifully restored theatre on Courthouse Square was built in 1926 and named for the owners daughter. Elvis Presley and the crew of the movie "Follow That Dream" viewed daily takes of filming...