First Hike of 2023
This event has expired and is here for your information.
January 1, 2023
@ 1:00 PM - 1:30 PM
FORT COOPER SPONSORS FIRST-DAY, 2023 SPECIAL EVENTS
New Year's resolutions start early at Fort Cooper State Park: take a hike on one of three Park trails or bring your phone and participate in a Photo Scavenger Hunt. Scheduled for Sunday, January 1 st, the two events will start at 1:00 p.m. in the Park Pavilion. The events are open to all ages.

The Photo Scavenger Hunt is a self-guided search. A list of items is given to each participant to find as they explore Fort Cooper State Park. As each discovery is made, a picture is taken by the
participant. At the end, the group of photos is brought and shown to the Park Ranger to claim a prize.

The First Day Nature Hike, led by a Park Ranger, is a fun, enjoyable, and informative hike for the whole family through the beautiful and peaceful Fort Cooper State Park. Participants will walk one of the Park's three nature trails, approximately 1.5 miles, examining the variety of plants, animals, and insects that the Ranger will identify along the way. So, start your new year with a healthy hike and get acquainted with this gem of a state park.

For your safety, it is recommended that close-toed shoes are worn. Suggested items to bring are water, insect repellent, a camera, and/or binoculars. Minors must be accompanied by an adult. This
event is subject to cancellation due to inclement weather. The Park entrance fee is $3.00 per vehicle.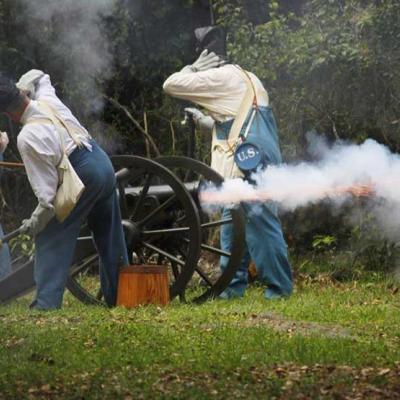 In 1835, the United States sought to expel Native Americans who were fleeing to Florida Territory in order to avoid forced relocation beyond the Mississippi River. During this Second Seminole War,...