Bike the Loop Day
This event has expired and is here for your information.
October 29, 2022
@ 8:00 AM - 2:00 PM
This FREE event starts at the park headquarters, where parking, restrooms and water are available. Cyclists will pedal a mile on pavement before arriving at the Seven Mile Loop Trailhead. The total distance will be 9.25 miles.
Cyclists will have the opportunity to listen to the quiet of the marsh, try (but fail) to wrap their arms around a huge, champion loblolly pine near mile 3, or to spot native wildlife along this unpaved loop trail.

Riders may start their rides at any time during the day, but all services (water and bicycle tire pump at the halfway point, for example) will end at 2 p.m. Participants are encouraged to bring their own water and snacks. Most riders will take about two hours to bike the loop, with scenic stops along the way.

Gravel bikes, beach cruisers, and mountain bikes are all perfect for this ride. Helmets are strongly recommended for all, and required by law for all riders younger than 16.

No registration is required - just show up and have fun!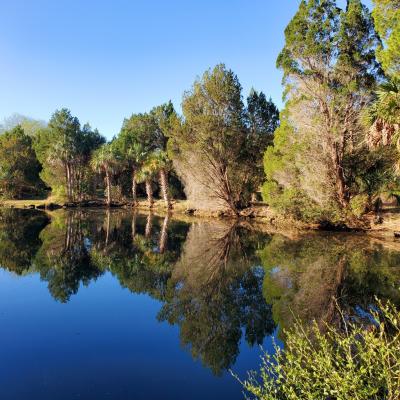 The Crystal River Preserve State Park ranges over twenty miles of the Gulf Coastand includes vast areas of protected islands, marsh and forest. On land, you'll find miles of trails including the...